Weather
Here's what two New England-based almanacs are predicting for this winter
One of them, the Farmers' Almanac, is predicting "lots of snow" for north and central New England.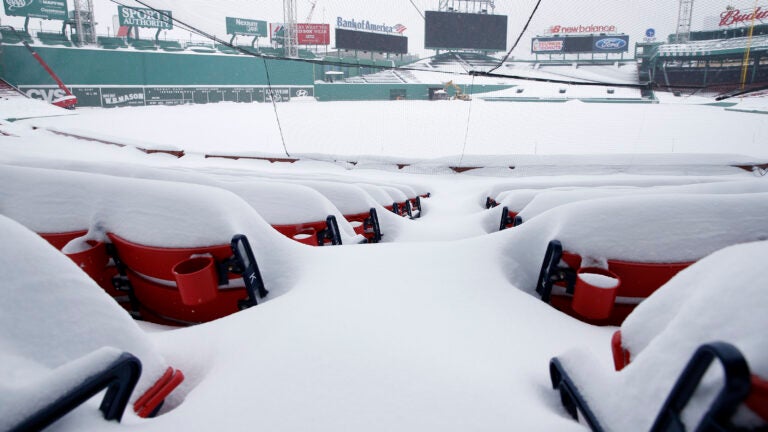 Better enjoy the sweltering heat and humidity while you still can.
Two New England-based almanacs are already thinking about winter and have released their long-term predictions for how bad the snow and cold will get this year.
The Farmers' Almanac, based in Lewiston, Maine, is predicting that the 2018-2019 winter will bring "teeth chattering" colder-than-normal temperatures to New England and "above normal precipitation."
"Winter will hang on with stormy conditions up through the official start of spring, especially for the East Coast," the almanac announced on Sunday.
According to the Maine periodical, the majority of the snow will fall in January and February, while the frigid temperatures will arrive in mid-February. 
"The 2019 Farmers' Almanac forecasts the coldest weather of this winter season to pour south from Canada and blow into the Northeast, New England, Great Lakes, Ohio Valley, and Southeast during mid-February," a press release from the publication says. "The outlook for this time period includes 'arctic air, blustery, bitter winds, sharp drops in temperatures, and widespread snow showers and squalls.'"  
For those hoping to hear a more mild prediction for the upcoming winter season, you're in luck. The Old Farmer's Almanac, which is based in Dublin, New Hampshire, is forecasting that New England will experience a "warm, wet" winter in 2019.
While "above-normal levels" of precipitation are being forecast, the New Hampshire almanac is predicting "below-normal levels of snowfall in areas that normally get snow."
The Farmers' Almanac says a "mathematical and astronomical formula developed in 1818" is used to put together its forecast, while the Old Farmer's Almanac says its predictions are developed from a "secret formula" that draws on solar science, climatology, and meteorology. 
As for the reliability of the almanacs' forecasts, at least one local meteorologist appears to have his doubts.