Weather
NOAA is predicting a mild winter for Boston and much of the U.S. in 2018-2019
The Winter Outlook from the agency's Climate Prediction Center was released on Thursday.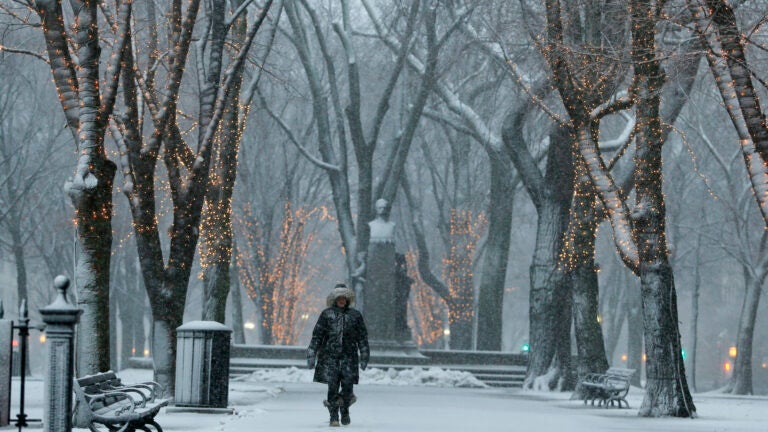 The cold may have returned this week, but take heart New Englanders: The National Oceanic and Atmospheric Administration says a mild winter could be in store for the region and much of the country this year.
Above-average temperatures are likely across most northern and western states from December through February, according to the 2018-2019 Winter Outlook released by the agency's Climate Prediction Center on Thursday.
"Wetter-than-average conditions are favored across the southern tier of the U.S., and up into the Mid-Atlantic," NOAA said in a statement. "Northern Florida and southern Georgia have the greatest odds for above-average precipitation this winter."
The outlook does not include seasonal snowfall accumulations, but it is being predicted that New England, similar to last year's forecast, has an equal chance of seeing above, near, or below normal precipitation.
"Snow forecasts are generally not predictable more than a week in advance," the agency said. "Even during a warmer-than-average winter, periods of cold temperatures and snowfall are still likely to occur."
Overall, no part of the U.S. is forecast to have below-average temperatures.
"That does not mean that below average temperatures cannot occur," Mike Halpert, deputy director of NOAA's Climate Prediction Center, said in a statement. "For every point on these maps there exists the possibility that there will be below, near, or above average outcome. The maps show only the most likely category with higher probability indicating greater confidence."
NOAA will provide an update to the forecast in November.
https://www.youtube.com/watch?time_continue=158&v=pqhlgovftLY