Weather
Here's what forecasters are saying about winter in New England this year
Local and national weather experts are delving into what to expect for the 2018-2019 season.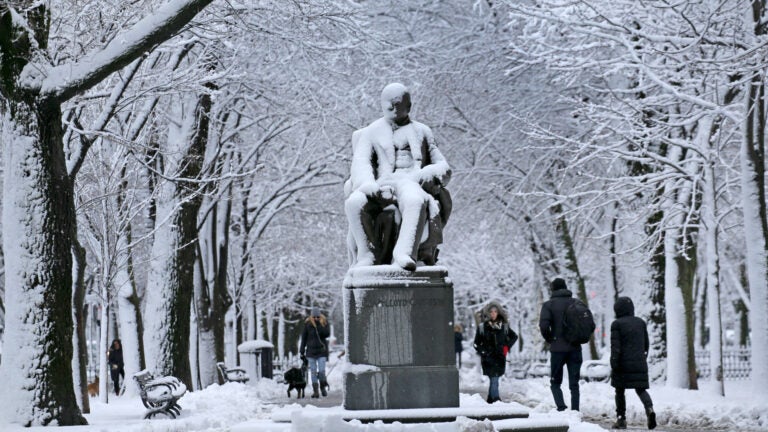 How bad will this winter be? How much snow will we get? Will it snow on Christmas?
Long-range winter weather forecasts are always a challenge for meteorologists.
"Seasonal forecasting is still a budding science," WBZ's Eric Fisher said in his forecast for the upcoming season.
"It's generally not going to be a slam dunk or something to take 100 percent literally," he continued. "It's an educated guess using the science we have available to us and looking at all the known variables involved."
Still, local and national meteorologists have issued their winter weather outlooks over the past few weeks. There isn't widespread consensus on what this winter could have in store for New England, except that all forecasters are looking to El Niño's probable impacts on the region's weather the next few months.
Here's what forecasters are saying this winter may have in store for New England:
The National Oceanic and Atmospheric Administration predicts above average temperatures from December through February for most of the Northeast. 
While NOAA officials believe the South and mid-Atlantic will see "wetter-than-average conditions," they expect New England to see average precipitation this winter.
"Snow forecasts are generally not predictable more than a week in advance," NOAA officials wrote in their outlook. "Even during a warmer-than-average winter, periods of cold temperatures and snowfall are still likely to occur."
David Epstein predicts the Northeast will see average or colder-than-average temperatures this winter with February 2019 being "significantly colder" than February 2018. 
"This year's setup is different than last year because pools of warm and cold ocean water aren't in the same positions as 2017," he said. "Last year was the warmest February on record, and it's highly unlikely we'll be anywhere near that."
Epstein forecasts a milder start to winter "with December seeing milder air and less snow."
He expects this winter to be a stormy one for the U.S., but he said "the challenge" is figuring out if or how those storms will impact New England. 
"A more widespread, powerful El Niño could mean less snow and more warmth for New England," he said, "but a less common Modoki El Niño could bring lots of opportunities for shoveling this winter."
WBZ meteorologist Eric Fisher said New England is in for a cold December, a reprieve in January, and a "very cold and stormy" February and March.
He, too, pointed to El Niño as a factor in what he believes will be a snowier winter than average. He expects 55 to 65 inches of snow in Boston; the average snowfall in Boston is around 43 inches.
December will be "colder than average and snowier than a typical El Niño winter," he said.
"January may offer the best chance for relief this season," Fisher said. "But all signs are that February as well as March will be a very cold and stormy end to the season, the biggest question mark being: Will the storm track be just south of us or over the top of us during those two months?"
Meteorologist Michael Page expects "milder than average temperatures as a whole, and wetter than average conditions as a whole" because "all signs continue to point towards an El Niño year."
In a series of tweets, Page said he expects a warmer-than-average December, January, and February.
He called the long-range precipitation forecast "tricky," and the snowfall forecast "the hardest of all."
"When we look at very wet autumns, like this year, from the past century, we find subsequent winters that were pretty lackluster snow-wise in Boston," he tweeted. "The vast majority had much less snow than the average 40ish inches that fall. One was close to average, one above. With that in mind, odds right now favor below average snowfall around Boston this winter."
Page urged residents to remember that this doesn't mean there won't be storms or that this winter won't feel cold.
The Weather Channel predicts slightly above or near average temperatures in New England for November and December with January at or slightly below average. 
Weather Channel forecasters also predict that El Niño will play a role in the temperature.
Meteorologist Todd Crawford said the positive phases of the North Atlantic Oscillation and the Arctic Oscillation could be "fading away," and the NAO could go negative. This means cold air could be pulled south toward the eastern United States, he said. 
A much different temperature regime is expected across the Lower 48 states as we approach the start of #winter. Here's our latest outlook for November through January 2019: https://t.co/vfwhVxCDy1 pic.twitter.com/mwmnS3OcYU

— The Weather Channel (@weatherchannel) October 15, 2018
AccuWeather expects winter will start off mild in the Northeast before January and February turn colder than last year.
"Some Interstate-95 cities will notice a significant temperature dip compared to last year," Jillian MacMath wrote in AccuWeather's winter weather forecast.
Overall, the company expects New England will have a season with "cold and mild periods," though southern Connecticut and Rhode Island fall into the "wintry mix" category.
"Boston and New York, I think they're going to tend to be near normal on snowfall this coming winter season," forecaster Paul Pastelok said.
While the mid-Atlantic may see "a few big snowstorms," the company predicts the Northeast will stay clear of most of them.