This year, the start of winter will feel like the middle of spring
Temperatures are going to be near 60 as winter begins on Dec. 21.
Sometimes Mother Nature has a sense of irony or at least it would seem that way. Have you heard how warm it's going to be on Friday?
Temperatures are going to be near 60 as winter begins on Dec. 21.
This year, the start of winter will feel like the middle of spring. A strong low pressure area is going to move west of New England on Friday, and this track will pull very warm and unusually humid air northward. Temperatures will reach the 50s and even some areas into the 60s Friday afternoon.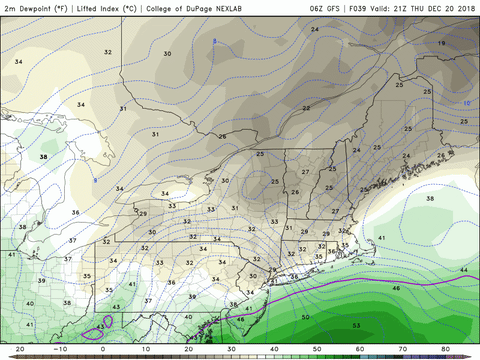 Some tropical humidity will overspread the area with dew points in the 60s late Friday.
Additionally, showers will turn into a steady rain with heavy downpours. This isn't a remarkable rain system, but if Boston receives just over an inch and a quarter of rain, it will move us into a top-10 wet year. Many other areas across the East Coast have experienced their wettest or one of their wettest years on record, so we are in good company.
Friday is a big travel day, with Christmas Eve on Monday and many taking a four-day weekend. Adding in a rainstorm is going to potentially create a travel nightmare. It won't be as bad as it would be if it were snow, but nevertheless I do expect much slower than normal travel.
This weather system will leave the region Saturday with a few lingering showers. By the end of the day, skies will begin to clear. Sunday will be a much brighter day but colder, with temperatures right around that 40 degree mark.
For Christmas Eve and Christmas Day, there won't be any weather issues, just cold air. Comparatively, Thanksgiving (when it was as low as 15 degrees) is going to end up being much colder than Christmas.
Winter Arrives Friday
Meteorologically, winter began back on Dec. 1, the start of the coldest 90 days of the year, but astronomical winter starts on Friday at 5:23 p.m. This milestone, which we call the Winter Solstice, marks the point at which the sun becomes directly overhead along the Tropic of Capricorn south of the equator. Basically, this marks the time of the year where the sun is at its lowest point in the sky.
You've been told from your childhood this is the shortest day of the year, but in reality it's just the day where the gap between sunrise and sunset is the smallest. The earliest sunset (4:11 p.m.) actually occurred earlier this month, and the latest sunrise won't happen until early January.
Starting Saturday, that gap will grow by one second! By the time we get to New Year's Eve, although we will have only gained a couple of minutes of daylight, the sun will be setting a full 10 minutes later than it was back on Dec. 9.
The milder-than-average weather is forecast to continue into the first week of the New Year. Don't write off winter just yet, though. There's still a long road ahead even if it's going to be a bit brighter.