Weather
David Epstein: What we know about this weekend's forecast
Clean up the snow as quickly as you can today. Temperatures will only drop from this point forward.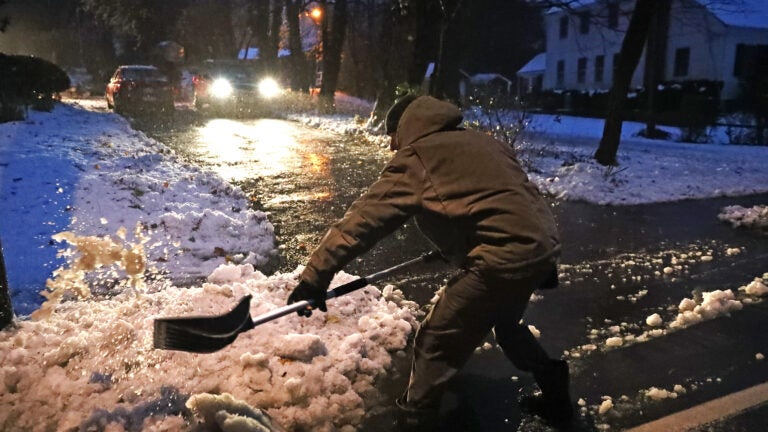 While the snow is over, the storm is not.
Overnight, Massachusetts saw a range of snowfall totals, from a coating over the southernmost parts of the state, all the way up to 6 to 8 inches toward the New Hampshire border.
Now, cold air, which is much heavier than warm air, is draining south from northern New England. As this process continues Sunday morning, temperatures will continue to drop. Since the air is still too warm for snow, the precipitation will fall as rain and then freeze upon contact with the trees, power lines, and any untreated services.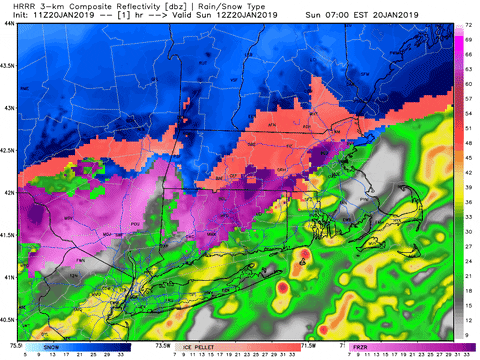 Sleet and freezing rain dominate Sunday's weather. Southeastern Massachusetts will get some rain. (WeatherBell)
This is going to be an issue Sunday, especially away from the coastline. Once the ice accumulation reaches anywhere from a quarter inch to half an inch, you'll start hearing tree branches break, and the power will follow.
There can be pockets of noticeable damage in these types of situations, and it's incredibly dangerous to be driving. As temperatures drop, it will get so cold that traditional melting products don't even work. This can make your driveway even more hazardous.
You should actually be rooting for it to get even colder above us because then the freezing rain will change to sleet. With sleet, there's at least a little bit of traction, and that stuff doesn't stick to everything.
Clean up the snow as quickly as you can today. Temperatures will only fall from this point forward. Sunday night and Monday will be in the single digits and low teens.
The cold air doesn't last that long, though. By Tuesday, we're back into the 20s, and we'll be in the 30s on Wednesday.
Our next storm system could arrive mid-week in the form of snow or rain, but it will definitely be milder. There's another blast of cold air coming later this week and early next weekend.
Overall, this weather pattern is conducive to cold and storminess, but that doesn't mean we'll see a major snowstorm anytime soon. Remember: Every winter that's started with this small amount of snow has never produced above average snowfall. Could this be the first? We will see.