Weather
Here's what local meteorologists are saying about the potential snow this weekend
Forecasters say "all eyes" are on a storm expected to hit overnight Saturday into Sunday.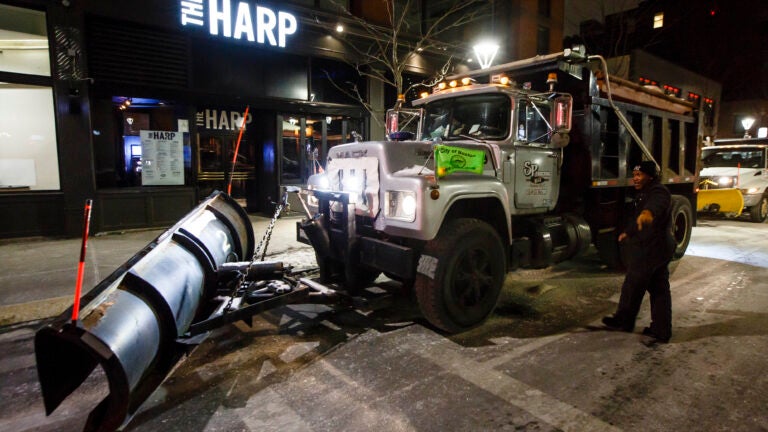 You're going to need your shovel out and ready in Massachusetts for the next three days.
Local meteorologists are tracking two weather systems that are expected to bring wintry weather to the region over the weekend.
"One weather system slips past Southern New England Friday, bringing a period of snow changing to rain Thursday night and Friday," the National Weather Service said Thursday. "All eyes are on a second storm that brings a mix of wintry weather for Saturday night and Sunday."
Here's what local forecasters are saying so far about the two storms — and the possibility of snow — headed into the weekend.  
Friday
The National Weather Service is predicting the precipitation will begin as snow and change to rain Thursday night into Friday as part of a quick-moving, low pressure system. While not much snow is forecast, meteorologists are cautioning that the timing could make for a messy commute on Friday morning.
Snow is expected to transition to rain for much of the "coastal plain" of Massachusetts and Rhode Island before all precipitation tapers off by late Friday morning, early afternoon.
"Currently looking at snow totals of a half inch to an inch for most, with 1 to 2 inches possible in the high terrain of the interior," the service said Thursday. "Take it slow on the roads Friday morning as untreated surfaces will become slick and hazardous."
Light snow arrives late tonight into Friday morning. The Friday morning commute will likely be impacted to some extent. pic.twitter.com/gxO2F9yWJE

— NWS Boston (@NWSBoston) January 17, 2019
The Friday storm is "not a big deal," according to meteorologist David Epstein.
"Good time to find a shovel," he said.
(See six maps forecasting accumulations for Friday here.)
Saturday into Sunday
Shovels and plows are going to be needed for the second storm system of the weekend.
A Winter Storm Watch has been issued for most of Southern New England by the National Weather Service, in effect from Saturday afternoon through Sunday evening, for the approaching "threat of significant snow and ice accumulation."
"[The] forecast starts with snow everywhere Saturday night, then brings rain into the South Coast by morning," the service said Thursday. "Rain spreads up to Boston and the North Shore Sunday, also across Rhode Island and much of northern Connecticut. North of that zone will
be a band of sleet/freezing rain across the interior, snow continuing across parts of northwest Massachusetts."
The service is predicting areas in Massachusetts could see more than 2 feet of snow, while Boston is forecast to get between 8 and 12 inches of accumulation.
Weekend Storm Timing: Here's a rough idea of what to expect. Snow arrives Sat night, transitions to a wintry mix Sun morning, and probably to all rain near Cape/Islands. Mix/rain should make it a little farther north after 7 AM Sun but uncertainty is very high! Stay tuned. pic.twitter.com/KlRdwcjOtE

— NWS Boston (@NWSBoston) January 17, 2019
Summary of key points for the weekend storm. Plan ahead! pic.twitter.com/WzCEiiyPpg

— NWS Boston (@NWSBoston) January 17, 2019
Epstein says to expect between 4 and 8 inches by the time you wake up on Sunday morning, but, after that, how much snow will continue to fall remains uncertain due to some warm air that will be pushing into the region.
"If the warm air reaches Greater Boston, we could measure a few inches of sleet — perhaps as much as 2 to 4 inches — before it all changes back to snow and then ends," he said.  
Sleet is is about 4 times as dense as snow. If precip falls as sleet in middle of storm could be 2 inches, but if that is snow, can be 8 inches, big difference. pic.twitter.com/E3Mi9eqVna

— Dave Epstein (@growingwisdom) January 17, 2019
Sarah Wroblewski, a WBZ meteorologist, said the precipitation that will fall will likely still be plowable for most of New England.
These 'zones' will shift as we fine tune the timing & track of the storm this weekend… but a plowable snow likely for much of New England with a dangerous icy set up possible for parts of the area. #WBZ pic.twitter.com/5wAHiCwcUM

— Sarah Wroblewski (@sarahwroblewski) January 17, 2019
NBC10 Boston meteorologist Michael Page advised avoiding being on the roads on Sunday.
"If you don't have to, I wouldn't," he said on Twitter. "Morning snow will change over to an icy mix for parts of Southern New England, as it likely stays all snow in the mountains. Overall unpleasant to be traveling about."
How much snow will fall versus where a wintry mix of sleet will occur remains uncertain, he said.
WORCESTER: as you may suspect, odds of more snow are higher in Worcester, as compared to Boston. And keep in mind, this is for the city. Northern Worcester County has even higher odds of a foot, where mixing is less of an issue. pic.twitter.com/Oeby01DcwC

— Michael Page (@MichaelPageWx) January 17, 2019
But regardless of the exact totals, the storm will still result in "nasty travel."
IMPACTS: regardless of how much snow falls, remember that the impacts are really the same. Nasty travel during the day Sunday. Saturday travel is fine weather-wise, and conditions improve quickly Monday.

— Michael Page (@MichaelPageWx) January 17, 2019
The storm will wind down Sunday night, when temperatures are also forecast to drop, according to the weather service.
"The combination of wind and cold air will bring wind chills to single digits and below zero Sunday night and Monday," service meteorologists said. "It will also raise the possibility of a flash freeze of any remaining wet surfaces."
The meteorologists — and local authorities — are advising residents to check in for updates in the coming days, given the uncertainty of Sunday system.
The Friday and Saturday/Sunday storms are coming into focus. Keep an eye on the forecast, especially for late Saturday night into Sunday. #WinterStorm https://t.co/qIexDCy1mR

— City of Boston Emergency Management (@AlertBoston) January 17, 2019
(See six maps forecasting accumulations for Sunday here.)