David Epstein is answering your questions about Sunday's storm
Ask away.
Many of you sent in questions about the upcoming storm, so I wanted to take a little bit of time to answer.
I didn't get to all of them, but some are covered in my latest forecast or this breakdown of the potential impact to your weekend plans.
Here we go.
How much snow will I get at my house? —multiple readers
There's a lot of precipitation with this particular storm, and the difference of just a couple of hours of sleet versus snow would make the difference between 1 and 2 more inches of snow each hour. Sleet is four times as dense as snow, so a foot of snow would only amount to around 3 inches of sleet. Technically sleet counts as snow when we finally get the snow totals.
Here's what I'm predicting as of Friday afternoon:
Who will see the most snow? —D.J.
I think there's likely to be some area in New England that gets an extreme amount of snow: 16 to 22 inches, maybe more. This is because where it stays all snow and where it remains cold, there's likely to be some high totals. It'll most likely be in southeastern Vermont into interior New Hampshire and perhaps southern Maine.
Any times to completely avoid driving? —multiple readers
Many folks asked about travel. When should you be off the roads? When is it easiest to get back on? The snow will become heavy by 9 or 10 p.m. Saturday, so anytime after that, it will just continue to become more difficult to drive. Visibility will also deteriorate. We will probably have about 1 to 3 inches of snow down by 1 a.m. Sunday. Things will improve during the late afternoon Sunday.
Will my flight get into or out of Logan? —multiple readers
Logan Airport is likely affected to some extent, especially early Sunday morning. Many airlines end up not bringing planes into Logan in the first place, so the equipment isn't even here to take off. Obviously I can't predict where all the planes are going to be, but this isn't the type of storm that's going to shut down Logan for an extended period of time.
How should we handle shoveling snow during this big storm? I'm concerned about the layer of ice in the middle, but will conditions allow us to go out in the middle? What would you do? I live in Somerville. We don't have covered parking. —L.G.
Since the snow continues through the night, the majority of it will have fallen by 7 or 8 in the morning; then we have that four- to seven-hour window of mixed precipitation. As soon as you see the precipitation changing over, try to get out and clear it. That will make it a little bit easier to move the sleet, which will then fall for several hours. Another school of thought says just wait until all the sleet has fallen, but I think it becomes too heavy with the additional snow underneath.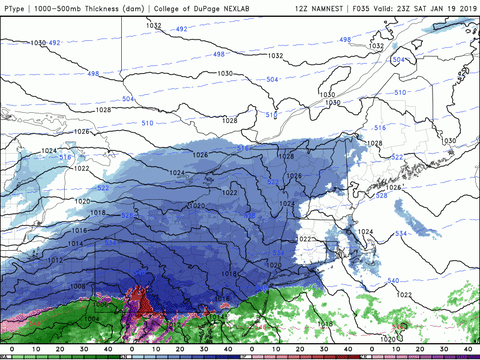 Will the skies clear on Sunday night in time to see the lunar eclipse? —R.O.
Clearing likely won't take place quickly enough in order to get a good view of the lunar eclipse, but there's always a chance that we get some breaks in the clouds by midnight, so it's worth looking up.
How likely are outages? —S.F.
Generally this storm is either going to be snow, rain, or sleet with not much in the way of freezing rain. (The exception would be down toward interior Connecticut.) Around here, I don't expect any power outage issues from ice accumulation. Winds aren't going to be particularly strong during the storm, so that also should limit the number of power outages as well. Toward Cape Cod, where the snow is heavier and wetter, there won't be as much of it, again limiting outages.
Is this storm harder to forecast than others? —M.F.
The storm is no more or less difficult than other storms. They all present challenges. Sometimes we're worried about whether the track will come close enough to give us a storm; sometimes it's the temperatures here at the ground. In this case, it's the temperatures above the ground. It's the timing of when the sleet takes over for the snow — that's the real issue.
---
Have a burning question about Sunday's snowstorm? Meteorologist David Epstein has the answer. Ask Epstein a question by commenting below, tweeting at him, emailing weather@boston.com, or using any other method you like. Check back here for his responses.