David Epstein: Frigid temperatures follow a small snowstorm
The Tuesday evening commute and perhaps the Wednesday morning commute will be affected, particularly west of Interstate 495.
A storm system moving through New England Tuesday night and Wednesday will bring a mixed bag of precipitation, mostly in the form of rain at the coast and the immediate interior. However, farther west, where the air will be colder, the precipitation will fall in the form of snow.
There is a winter storm watch posted for western Massachusetts and northern Worcester County, especially the western part.
There may be winter weather advisories needed toward Worcester, but I don't expect that we're going to see more than a few inches of snow. Farther east, this is another system with anything from a few hours of snow in the air, but not sticking to surfaces, to maybe up to an inch or two.
This isn't a big deal, but the timing is such that the Tuesday evening commute and perhaps the Wednesday morning commute will be affected, particularly west of Interstate 495. The storm is going to develop quite quickly as it passes north of New England and drags down much colder air behind it. Such scenarios generally don't produce much in the way of snowfall because the storm ends up developing too late and, when the cold air arrives, the moisture has already departed.
It's not a secret that in order to get some substantial snow, we've got to have the moisture and the cold at the same time. That's something we just have not been able to do this winter.
As colder air rushes in, snow squalls can develop and quickly coat the ground and cause travel issues. These squalls could arrive during the Wednesday evening commute.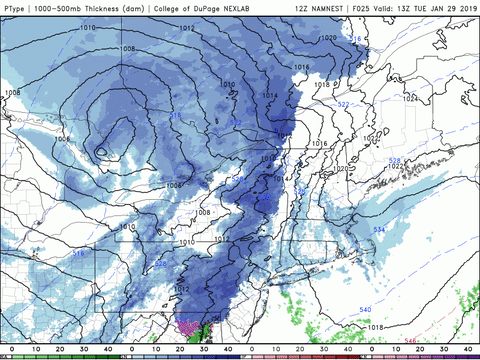 A burst of rain and snow Tuesday evening is followed by some squalls Wednesday evening. (COD Weather)
On Wednesday night, the cold will arrive in full force. A northwesterly flow of air will pull in that Arctic air that has been punishing the Midwest. While we won't have to endure it for long, there will be a period when the core of the Arctic air will brush through the region.
When you get up Thursday morning, readings will be in the lower single digits. The mercury will reach the lower teens Thursday afternoon and then head back toward zero in some spots away from the coast for Friday morning.
The cold across the Midwest is noteworthy, with areas like International Falls, Minn., recording one of its 15 coldest days on record. There are other places in the Midwest that will not see highs top zero — and that is without even factoring in wind chills.
The good news? You'll just have to really bundle up for about 36 hours before the air moderates Friday afternoon.