Weather
'High impact' snow squalls are forecast for Wednesday evening. Here's what you need to know.
Meteorologists are warning that the brief bursts of heavy snow could create dangerous conditions for drivers during the evening commute.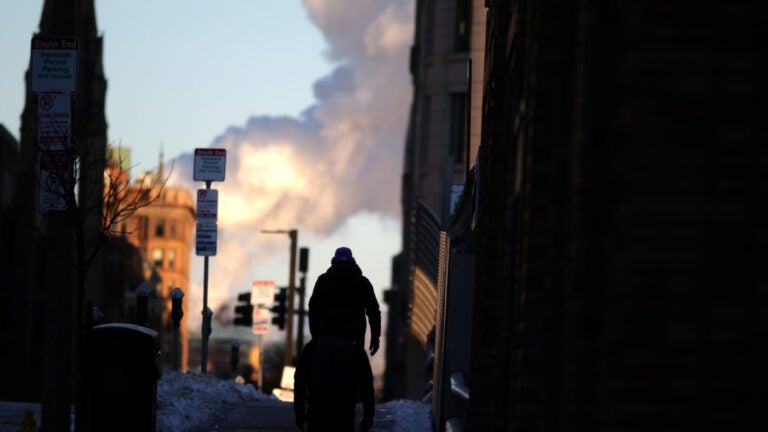 The storm that brought rain and snow to the region might be on its way out this morning, but meteorologists are forecasting that more winter weather will make for potentially dangerous conditions for the commute on Wednesday evening.
The National Weather Service is predicting a "high impact snow squall event" with brief strong and damaging winds in Massachusetts, as an arctic cold front crosses into the region late Wednesday afternoon and evening.
Service meteorologists say the snow squalls will cross through the western part of the Bay State between 3 and 5 p.m., then move through Eastern Massachusetts and Rhode Island around 5 to 7 p.m.
Forecasters say the bursts of very heavy snow and potentially damaging wind gusts, between 40 to 50 mph, could result in brief whiteout conditions and have a "significant impact" on travel during the evening commute and be "dangerous" for motorists.
"For your safety, you are encouraged to be off the roads as these snow squalls move through," the service said. "Plan on traveling before they arrive or wait until after they pass. Squalls won't last more than 30 minutes in any location but will be very dangerous for travel."
[High Impact Snow Squalls] A line of heavy snow squalls expected to move through SNE 3-7 pm. Snow squalls will result in brief whiteout conditions, strong wind gusts and up to a quick inch of snow which may have a significant impact on travel for the evening commute. pic.twitter.com/DYllgnFA48

— NWS Boston (@NWSBoston) January 30, 2019
The entire state is at high risk for the snow squalls, and a wind advisory has been issued for the region.
Strongest winds expected w/ the Arctic front & snow squalls this afternoon into evening. WIND ADVISORY for all S New England. HIGH WIND WARNING on the Cape & Islands. Gusts 50 to 60 mph! Scattered tree / power line damage expected + near white-out conditions. #snowsquall pic.twitter.com/bUOcjsa9Fm

— NWS Boston (@NWSBoston) January 30, 2019
Forecasters have also issued wind chill warnings and advisories for most of the state for the evening. As the evening goes on, the temperature will only continue to drop, they said.
"Bitterly cold temperatures and dangerously low wind chills follow tonight into Thursday morning," the service said.
It will remain "dangerously cold" through midday Thursday, with temperatures only reaching into the single digits or teens. Wind chills will make it feel below zero.