Weather
11 maps forecasting how cold it will feel in Massachusetts on Thursday
You'll want to bundle up against these frigid temperatures from an arctic cold front.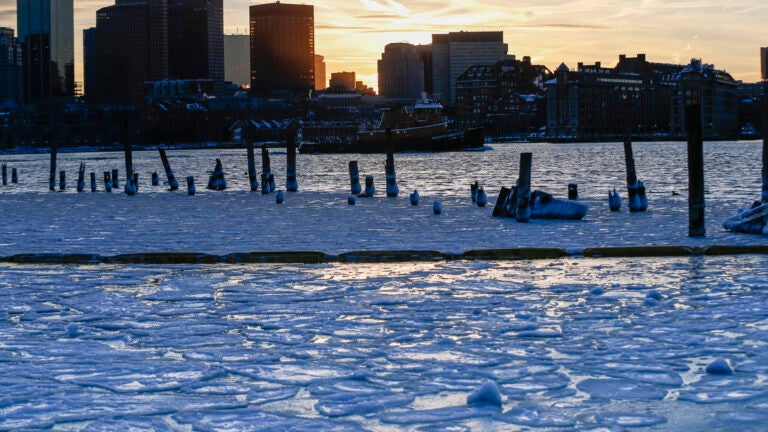 Boston may not be seeing the "deadly" cold that has settled on the Midwest, but New England is going to see some arctic temperatures of its own.
An arctic cold front will cross the region starting late Wednesday afternoon, bringing with it snow squalls and damaging winds to impact the evening commute, the National Weather Service is forecasting. "Bitterly" cold temperatures and "dangerously low wind chills" are predicted to follow overnight and into Thursday morning.
"While it will be bitterly cold, we will not see a historic arctic outbreak occurring over portions of the [Midwest]," the service said. "Our airmass will be delivered on a west wind as opposed to a northwest wind. Nonetheless…low temperatures across most of the region will bottom out between 5 below zero and 5 above zero."
Wind gusts, combined with the already cold temperatures in the single digits and teens, will create wind chills that will make it feel between zero and 10 below. On Thursday night, even though the winds will lessen a little, it could still feel like between negative 10 and minus 20.
"It will remain dangerously cold [Thursday] morning to midday," the service said.
Below, 11 maps from local meteorologists predicting how cold it will get, and feel, in Massachusetts. 
Whatever is on the ground after today's squalls won't be going anywhere until the weekend. Frigid tomorrow, solid Feb cold Fri (low 20s) then a seasonable weekend. pic.twitter.com/2Q5rzQWgI1

— Eric Fisher (@ericfisher) January 30, 2019
Covering up exposed skin tonight/tomorrow will be a necessity. Forecast wind chill values Thu. AM #WBZ pic.twitter.com/ggl0gkPfFD

— Danielle Niles (@DanielleWBZ4) January 30, 2019
On alert for potent snow squalls 4-8pm that could have a high impact on the roads. Those come with an Arctic front bringing strong winds and bitter cold. Details in your video forecast here: https://t.co/fJcFWpxZzz #wcvb pic.twitter.com/XFeW7QP6i7

— Cindy Fitzgibbon (@Met_CindyFitz) January 30, 2019
Expect wind chill temps. to drop to between -15 and -25 for the Thu AM Commute #wcvb pic.twitter.com/sUukKn5MdY

— Harvey Leonard (@HarveyWCVB) January 30, 2019
Arctic air and a bitter wind pours in overnight. Near 0 by tomorrow morning. pic.twitter.com/sPkVhxHyLL

— Chris Lambert (@clamberton7) January 30, 2019
Here's how we start tomorrow morning… bitter winds for sure. pic.twitter.com/7DeT7oRj1P

— Chris Lambert (@clamberton7) January 30, 2019
https://twitter.com/DeniseNBCBoston/status/1090565463350919168