David Epstein: Two big storms are coming, but they won't bring much snow
Two more storms are in the forecast during the next four days.
Besides the lack of snow (and the Super Bowl), the other thing this winter will be remembered for is how many storms brought a mess of mixed precipitation. We are in an active weather pattern right now, and two more storms will bring a mix of snow, sleet, and rain to the region through the weekend.
A winter weather advisory has already been posted for much of southern New England as snow, sleet, and freezing rain are back in the forecast starting Wednesday night.
This system is a fast mover, and it'll bring messy precipitation for 12 to 14 hours. On average, most areas will see one to three hours of snow, followed by a few hours of mixed precipitation, followed by a few hours of rain. The snow may not last quite as long over the Cape and islands; it could last a little bit longer farther north.
The snow arrives around or just after 7 p.m., then it peaks by 1 a.m. before changing to a mix. Rain takes over in Boston prior to sunrise, but sleet and freezing rain will last longer to the north and west of I-495 and Route 2.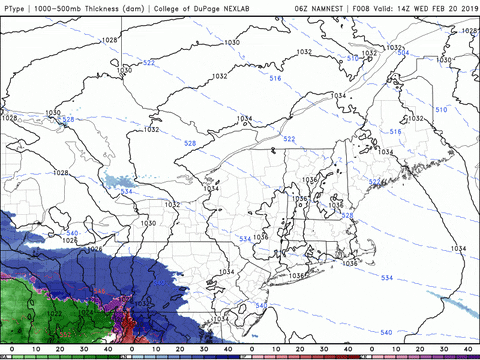 A fast-moving area of snow to mix to rain crosses southern New England overnight. (COD Weather)
The highest snowfall totals are likely to fall across the Route 2 corridor and up into New Hampshire, Vermont, and Maine.
A winter weather advisory is posted because of the plethora of precipitation types and the impacts to roadways after 8 p.m. through sunrise Thursday. Early morning commuters may find slick travel on untreated or poorly treated surfaces. It's February vacation week, so we don't have to worry about school delays or cancellations with this system.
Once the storm moves off the coast and up into northern New England, the sky will start to clear. If we get sunshine early enough, it's not going to surprise me if a few spots notch 50 degrees Thursday afternoon. A delay in this clearing would keep temperatures in the 40s but still warm enough for plenty of melting.
Friday and Saturday are both dry days and comfortable for the latter half of February with readings across the region in the upper 30s to mid-40s. Ski country will again receive several inches of snow from this particular system.
The next storm arrives Saturday night into early Sunday. If there is wintry precipitation at the start, it will quickly change to rain again as temperatures warm well into the 40s.