Here's David Epstein's forecast for the snow Sunday night into Monday
I'm forecasting a widespread swath of 4 to 7 inches of snow with a few spots touching 8 inches.
Sunday morning and afternoon are quite pleasant for early March. Temperatures will be around 40 degrees, and we'll see some strong sunshine for this time of year. Some of Saturday's snow will melt as a result.
If you're hoping for bare ground, you're out of luck. It's going to be covered by more snow starting Sunday night.
A fast-moving low pressure area will come out of the South, move east of New England, then head up toward Canada. This particular track will keep snow across the Boston area and the rain-snow line over Cape Cod and the islands. There's going to be a widespread swath of 4 to 7 inches of snow with a few spots touching 8 inches. The snow will be on the heavier and wetter side, especially south of Boston where temperatures will be mildest.
The snow will begin Sunday evening between 7 and 10 p.m., continuing overnight and becoming quite heavy during that time. I expect some snowfall rates of 1 inch per hour for a period between midnight and 5 a.m. The snow will end completely between 7 and 9 a.m.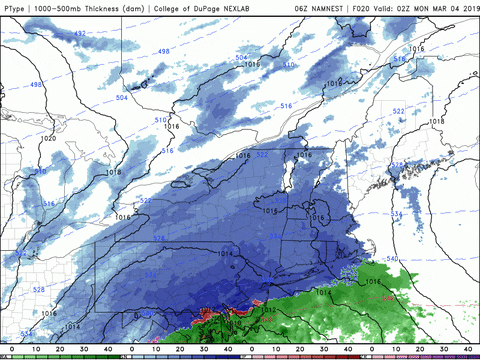 Radar image via giphy.com
When it snows this hard in this brief of a timeframe — even though there isn't a lot of total accumulation — it can be difficult for the road crews to keep up. Snow delays are likely for Monday morning. I'm sure some schools will be cancelled because some areas won't be able to clear enough sidewalks in time.
As the storm heads into Canada, it's going to pull down cold Arctic air into the region. This means temperatures will continue to be below normal for the rest of the workweek and even into next weekend. The coldest days will be Wednesday and Thursday when high temperatures will be below 30 degrees; that's 10 degrees below average for the first week of March.
Our overall pattern continues to be cold with the potential for more storminess in the next 10 days. March is the time of year when the atmosphere is starting to trend warmer, but there's still a lot of cold air left. This is why the beginning of March favors cold and snow while the end favors rain and milder temperatures. It's worth remembering that March snowfall averages are 8 inches in Boston and a foot or more in other parts of western and northern New England.
Temperatures are forecast to become much more typical for the second week of March.