Weather
Here's what local forecasters are saying about the weather for the 2019 Boston Marathon
"Wet conditions look locked in for Monday."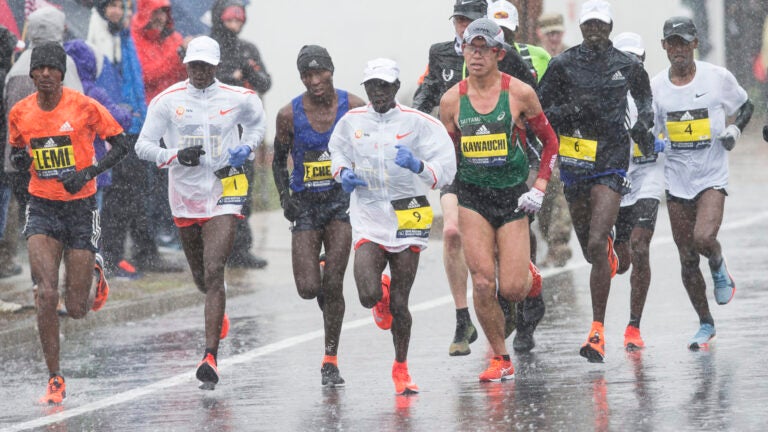 Forecasts continue to indicate that Marathon Monday will be wet, with highs in the upper 50s, according to the National Weather Service.
It's going to rain "all day long," Alan Dunham, a meteorologist with the service, told Boston.com in an interview Thursday.
"If it's going to slack off at all, it will be in the afternoon," he said, adding that whether or not it will be windy is still to be determined.
The Boston Athletic Association is warning runners to "remember to take the weather seriously."
"Packing extra layers, gloves, hats, and waterproof gear is encouraged," a Facebook post on the official Boston Marathon page said. "When it comes to New England weather, the only constant is change: sometimes to more favorable conditions and sometimes not."
Eric Fisher, a meteorologist with WBZ, said "wet conditions look locked in" for race day.
Wet conditions look locked in for Monday, so what we'll be fine-tuning is the placement of this front and timing of the heaviest rainfall as we get closer to the @bostonmarathon. #wbz pic.twitter.com/XdLVGff73v

— Eric Fisher (@ericfisher) April 10, 2019
While last year's Marathon Monday was the "wettest on record," Fisher said this year "may come close."
Here's a look at the past 5 @bostonmarathon races. Last year was the wettest on record and this year may come close to that mark with similar temperatures. #wbz pic.twitter.com/nmpbFVG89a

— Eric Fisher (@ericfisher) April 10, 2019
Boston 25 News meteorologist Shiri Spear predicts a high of 60 degrees for race day, but said the forecast is "iffy."
Above average temps will rule for the next few days. That #MarathonMonday high is very iffy…@boston25 #mawx #boston pic.twitter.com/oCaUUfef8m

— Shiri Spear (@ShiriSpear) April 11, 2019
Harvey Leonard, a meteorologist with WCVB, said Monday's temperatures will depend on the storm track.
As of now, expect wet weather leading up to (Sunday Night) and probably during The Marathon. Depending on exact storm track, it could be rainy and cool (40s), or showery and much milder (50s or 60s) #wcvb pic.twitter.com/aFSKwH8XgK

— Harvey Leonard (@HarveyWCVB) April 11, 2019
WBZ meteorologist Terry Eliasen also said rain will "be a major factor on race day."
#BostonMarathon forecast: @TerryWBZ says wet weather will once again be a major factor on race day https://t.co/qGz4oA1dNp pic.twitter.com/EsvENMiZeM

— WBZ | CBS Boston News (@wbz) April 10, 2019
Vicki Graf, a meteorologist with Boston 25 News, said 46 of the last 83 Marathon Mondays have been wet.
Looking back at Patriots' Day in Boston, out of the last 83 (since our records began) — 46 of them have had rain! We will add to that again this year, @ShiriSpear is tracking it on @boston25 pic.twitter.com/DD5hPkO2Aa

— Vicki Graf (@VickiGrafWX) April 11, 2019
Tips for running the Boston Marathon in the rain:
<subheading> Photos: The Boston Marathon through the years:
[bdc-gallery id="138482″]