Weather
Here's David Epstein's forecast for Mother's Day weekend
Saturday is the pick of the weekend.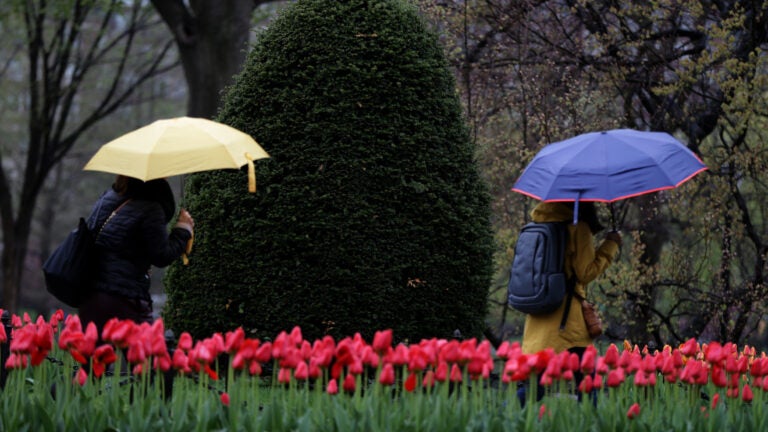 This weekend, Saturday will bring the most sunshine and mildest temperatures. Although the forecast on Mother's Day is not looking horrible, things will go downhill Sunday as the day progresses.
Overall the cooler-than-average temperatures are going to continue, and it's likely that May 2019 ends up on the cooler side of average.
Here's your complete weekend weather forecast.
Friday will be damp.
We have a weak weather system crossing through the area with a lot of clouds and a few showers. I'm generally expecting one-tenth to one-quarter of an inch of rain through this evening. This isn't a lot of precipitation, but it's enough to keep things damp and make it less-than-ideal to work outside.
Temperatures will stay in the 50s for most of the day.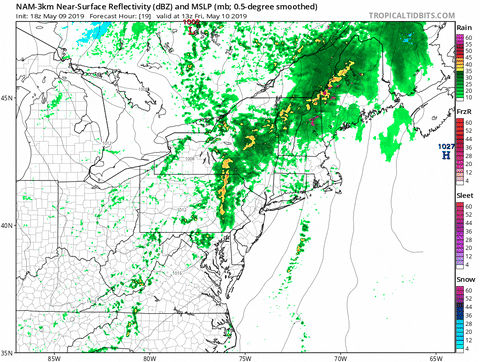 A few showers are likely today. (Tropical Tidbits via GIPHY)
Saturday will be sunny and mild.
Saturday is the pick of the weekend with the most sunshine and mildest temperatures. Many areas will get well into the 60s.
It wouldn't surprise me if some inland locations nudge the 70-degree mark for a couple of hours. Winds will be light in the morning and pick up a bit in the afternoon. We won't have to worry about canceling any outdoor activities as any dampness should dry out pretty fast.
The rain moves in Sunday.
Things are going to go downhill early next week, and Sunday is the transition between the sunshine and the rain. If you're heading to Lilac Sunday at the Arnold Arboretum, I suggest you get there early when the weather is best (and before it gets too crowded).
Temperatures are going to be cooler as the wind starts turning off the water. Temperatures may actually peak early in the afternoon before a sea breeze pushes readings back. There could be some showers late in the afternoon or evening, so if you're planning a barbecue, stay tuned to your local radar.
Early next week looks unsettled.
Unsettled conditions will prevail Monday into Tuesday with the chance for showers, and some heavy rain is possible. It also looks quite chilly. Readings will be in the upper 40s and low 50s on Monday, which is significantly below average.
---
AccuWeather: Week to end wet, stormy across northeastern U.S.