Weather
Here's David Epstein's forecast for the third weekend of August
Temperatures and humidity will be on the increase.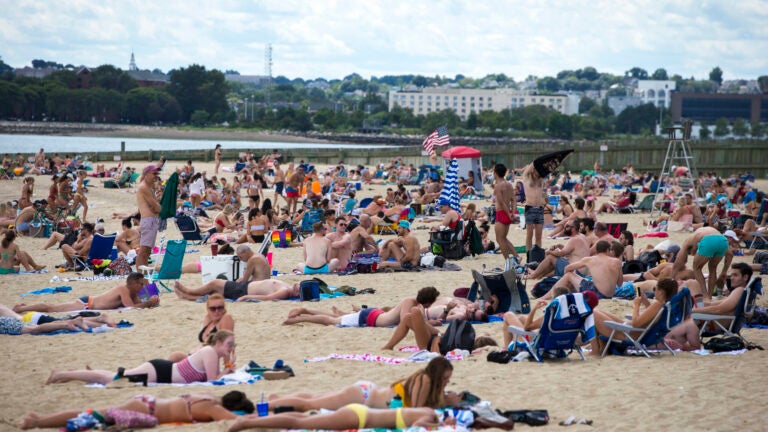 After several days of mild, comfortable weather, we're going to experience a few warmer, more humid days ahead.
Here's the complete weekend weather forecast:
Friday won't be terribly warm.
The coast has been cooler than inland areas over the past several days thanks to an easterly wind. Boston never even reached 75 on Thursday, while Norwood was in the lower 80s.
On Friday, once again we'll have to wait for any low clouds to burn off right at the water's edge, but temperatures will get into the 80s just a few miles inland while remaining in the 70s at the beaches.
There's not going to be much wind at all.
The dew point rises on Saturday.
The theme this weekend will be for increasing amounts of humidity. Dew points are going to be higher than they have been in many days, and you're really going to feel it by the time Saturday afternoon rolls around. High levels of moisture will last for several days until a cold front eventually pushes them out to sea in the middle of next week.
At times it will be bright and sunny, but I also can't rule out a pop-up shower or thunderstorm, especially after 2 p.m. Look for tides to be high in the afternoon.
Sunday gets even warmer, and the humidity remains high.
Sunday is a warmer day than Saturday with inland areas reaching 90 degrees before 2 p.m. When you add in all the humidity, it's going to feel like it's in the mid and maybe upper 90s for several hours.
There could be a shower or thunderstorm in the latter half of the day. Not all of us will see these, but if you do, expect a few downpours. Just keep an eye to the latest radar and be prepared to leave the beach if one of these storms arrives. The morning is your best bet to avoid any shower activity.
Next week stays warm and humid for a while.
Monday is a blazing hot day with temperatures getting into the mid 90s. I wouldn't be surprised if a heat advisory is issued. Tuesday is still very hot, but perhaps a slight pullback from the day before.
We're going to have to wait until Wednesday night or Thursday before the humidity breaks, bringing much more comfortable conditions to the region.