Weather
Why you shouldn't put any stock in the farmers' almanacs' winter forecasts, according to local meteorologists
"I think it's a great read, I just don't think people should be planning their vacations or how much energy they're going to need for the winter based on the almanac's outlook."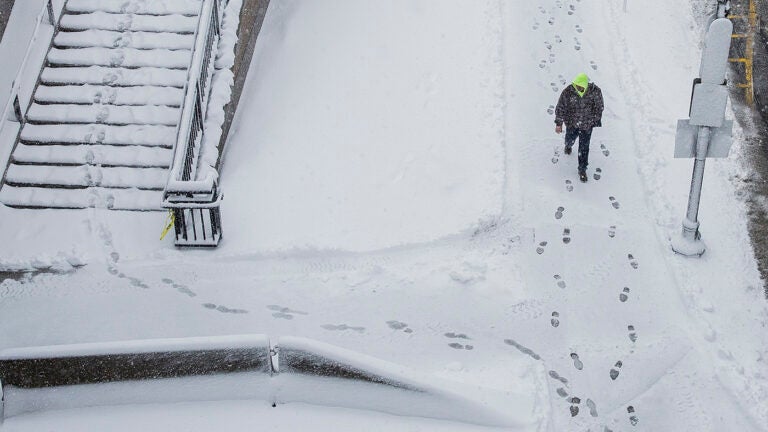 Winter is coming.
Both the Old Farmer's Almanac and the Farmers' Almanac have already published their seasonal forecasts for the upcoming solstice, offering a first stab at what New England and the rest of the country can expect in the colder months.
Consult the latter and you'll read of the "cold, wintry mix" in store for Boston. The Lewiston, Maine-based publication says we should expect a "Polar Coaster" winter — a season of fluctuating temperatures engrossed with a white, wintry mess of precipitation.
"There's going to be a lot of ups and downs on the thermometers," Sandi Duncan, the almanac's managing editor, told Boston.com.
The Farmers' Almanac envisions the coldest parts of the season clamping down at the end of January and beginning of February, with storms rolling in around Jan. 4 through the 7 and 12 to the 15 — a "freezing, frigid, and frosty" winter, it says.
Over at the Old Farmer's Almanac out of Dublin, New Hampshire, this forecast is offered for what the publication considers the "Atlantic Corridor," which includes the Boston area: "Winter temperatures will be much above normal, on average, with the coldest periods in mid- and late January and early and late February. Precipitation will be above normal, with below-normal snowfall. The snowiest periods will occur in mid- and late January and early February."
"Everybody gets what they want," said Janice Stillman, editor of the Old Farmer's Almanac. "If you like the snow, you get snow. If you don't like that, you get the rain. You don't have to shovel rain, as they say, but you certainly have to clean up the mess."
But whether that's how the upcoming winter will play out here in Massachusetts, local meteorologists have their doubts.
In a business of predicting the future, long-range forecasting has always been, and still remains, an incredibly difficult prediction to pin down, Boston-area weather experts say.
And while the two almanacs have published their own forecasts for over two centuries, local meteorologists contend each one's visions for the winter are more of a good read than true science:
"It's a fun publication," meteorologist David Epstein told Boston.com. "There's a lot of great information in there … but in terms of a reliable forecast, it's worthless."
"I think it's a great read, I just don't think people should be planning their vacations or how much energy they're going to need for the winter based on the almanac's outlook," said Eric Fisher, chief meteorologist for WBZ-TV.
"Even on our own, we don't trust the winter forecast until we get late into the fall," Matt Noyes, NBC10 Boston's chief meteorologist, said in an interview. "Usually it's going to be sometime in very late October or into the start of November, and then you get a good feel for how the jet stream pattern is set up."
A host of factors needs to fall into place before winter comes into view, including how major storms, like Hurricane Dorian, for instance, shape up and what their lingering impacts could be on atmospheric conditions, they say.
"(The almanac is) always a fun thing to look at and it's interesting how sometimes they'll hit something and it looks like they actually know what they're talking about," Boston 25 News chief meteorologist Kevin Lemanowicz said. "Some meteorologists really hate that they put this out there. I pretend to, just sort of joke around about it, like they want to take my job, sort of like the groundhog.
"But what we do as meteorologists is a forecast that goes out in the short term. That's our expertise, that's my expertise," he added. "Looking ahead to a whole season months down the road takes a lot more research and a lot more climatology."
'It's really all about sharing those techniques'
Founded in 1792 by Robert B. Thomas, the Old Farmer's Almanac has been predicting the weather since the country's earliest days.
Thomas developed "a secret formula" for how he determined the forecast. (His notes remain locked up at the almanac's offices.)
These days, after enhancing Thomas's approach over the decades, the almanac says it looks at solar science, including sunspots, climatology — "the study of prevailing weather patterns" — and meteorology — the jet stream, ocean and land temperatures, etc. — to offer up its best guesses.
"We predict weather trends and events by comparing solar patterns and historical weather conditions with current solar activity," its website says, adding that its holds an 80 percent accuracy rate.
While Stillman admits the formula is a quirky and fun entry in the almanac's long history, the publication indeed relies on modern methods to construct its forecasts, she said.
"We use such state of the art, of the moment technology today and current models and like that, that it's a bit of, I don't want to say (the formula is) folklore because it's real, it's alive, it exists, but it was kind of the personality of the Old Farmer's Almanac," she said. "And frankly, with the World Wide Web being so ubiquitous and information being so available, we decided a couple of decades ago not long after I first started here in the year 2000 that we would be a bit more forthcoming."
According to Duncan, the Farmers' Almanac takes a slightly different blend of factors into consideration — ones that date back to its founding in 1818.
"Our forecasts are based on a mathematical and astronomical formula," she said.
Sunspot activity, the position of the planets, and the tidal motion of the moon are all factors considered, as well as others that are known only to the almanac's prognosticator, Caleb Weatherbee — a pseudonym for all of the publication's forecasters since 1983, Duncan said.
"Just like Coca-Cola has their brand's secret (formula) and Kentucky Fried Chicken, we have the same," she said.
I find that meteorologists either like us or hate us.
But it's for precisely that reason, among others, meteorologists often dismiss what's written on the almanac's pages.
"They want to keep a close hold on it," said Andy Nash, meteorologist in charge of the National Weather Service in Norton, which consults its own resource, the Climate Prediction Center, for long-range forecasts.
"I don't know if they're linking it to the moon orbiting the earth — I really don't know," he added. "And within the science world, it's really all about sharing those techniques."
Lemanowicz, who sees the almanacs as more of a novelty, said there are a lot of old school methods that work fine, but, without the specifics of the formulas available, it's hard to speak to their accuracy.
"The whole gist of it is they're giving a general forecast," he said. "As local meteorologists, we have to give a much more specific forecast for the areas that we're forecasting for, whereas they can say it's going to be a snowy winter … that's pretty general."
The Farmers' Almanac tries to give its readers an idea of what's in store so that they can plan around the weather, according to Duncan. The publication, for example, often gets inquiries from brides-to-be, she said.
"It's interesting: I find that meteorologists either like us or hate us, and I think a lot of it is professional jealousy," she said, pointing to how the almanac provides long-range predictions across the country.
As for the Old Farmer's Almanac, Stillman said the publication provides predictions on monthly averages, not daily specifics. But the almanac's forecast usually comes close to what the National Oceanic and Atmospheric Association predicts, she said.
"We make long-range forecasts. (Other meteorologists) make short-range forecasts, and there's nothing wrong with that," she said. "I certainly can't comment on … anybody else out there, what their experience was, what their training was, what their exposure has been to these kinds of sciences that we use.
"So it's entirely possible they don't get it, they don't believe it, they don't understand it — and I'm not being critical. I'm just saying, we run into a story like this frankly every year at least once," she added with a chuckle.
'You're only a little bit better than a coin flip even if you spend your whole life studying this stuff'
While the details of long-range forecasting aren't nearly as specific as a daily or weekly weather outlook, the practice has received increased attention in recent years.
In 2016, to the dismay of meteorologists, AccuWeather started rolling out 90-day forecasts, while other outlets and organizations began looking at 30- or 45-day prediction windows.
But even as the technology evolves at a rapid rate, looking that far ahead — and being accurate — remains extremely difficult, local experts say.
"We can do our best, and even have some success … But you can never really bank on it," Fisher said of the seasonal forecasts. "This is still a very budding science."
Still, the push for outlets to get seasonal forecasts out fast and early has definitely intensified over the last several years, according to Noyes.
It's no secret that the almanacs, which publish in August, beat out the competition.
"But at the same time, it's important to consider the fact that seasonal forecasting even when done by the experts (at the Climate Prediction Center) is still only a little bit better than 50 percent … so you're only a little bit better than a coin flip, even if you spend your whole life studying this stuff," Noyes said.
Needless to say, although some forecasts show a somewhat warmer winter may be on tap, several meteorologists say they don't begin to consider what's to come until October, or mid to late fall.
In September, it is just too early to tell.
"It's always tenuous this part of the season because you're looking at the players getting slowly into place," Fisher said.
And hurricane season is definitely one of those factors. Major storms can shake up the jet stream, thereby changing what's to come even months down the line, meteorologists say.
"Think of it like throwing a big rock into a stream or something, you get all those ripples right?" Nash, at the National Weather Service, said. "The atmosphere is really like (the) water — you get those disruptions, those waves that are very hard to predict."
Still, Noyes thinks the almanacs play an important role to play, regardless of their forecasts.
He's read them since he was a child. Every year, for fun, he looks up what the weather looks like for his birthday in February, he said.
"I think that both the Farmers' Almanac and the Old Farmer's Almanac are phenomenal for our field of meteorology because it inspires curiosity in so many people across the country, and I really do mean that," Noyes said. "It's like people take a real interest in the Farmers' Almanac forecast and therefore they take a real interest in weather, which means they're taking an interest in science, which means we're expanding curiosity about the world around us — and that, I think, is so important for our society, for our kids, and for our future."