Weather
'The likelihood of it raining is pretty strong': What meteorologists are saying about the Halloween forecast
It may be mild temperatures for trick-or-treating, but rain is also in the forecast.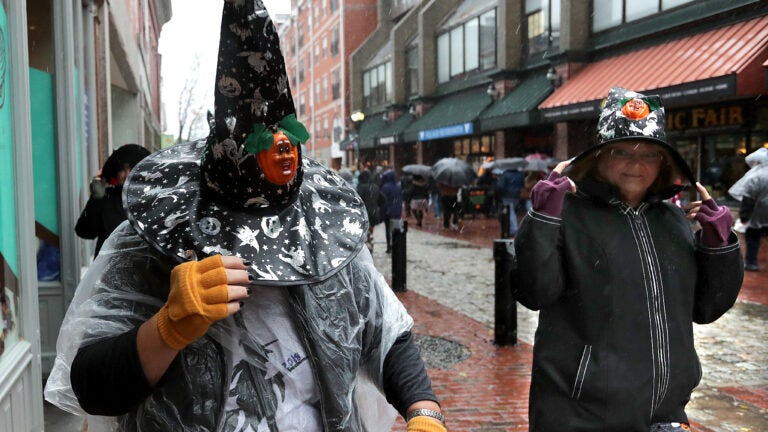 If your Halloween costume includes an umbrella, you're in luck.
Meteorologists are warning that rain is in the forecast for Thursday, when trick-or-treaters will be out and about seeking candy.
On the bright side, Bill Simpson, a spokesman for the National Weather Service Boston, said this year's Halloween will be warmer than normal, with temperatures in the low 60s.
"Within that window between 5 and 8 p.m., the likelihood of it raining is pretty strong," the forecaster said.
[Thu -Sat weather map] A period of heavy rain and strong winds possible Thu night into early Fri as a strong cold front sweeps across the region. Dry and seasonably weather follows Sat. pic.twitter.com/LajTmXmx5A

— NWS Boston (@NWSBoston) October 28, 2019
Trick-or-treaters should expect, not heavy downpours, but consistent, persistent, light rain, he said. There's a chance that the rain timing could change, but Simpson said it's probable the candy-centric holiday will be a wet one. 
Below, what other Boston-area meteorologists are saying about the Halloween forecast:
David Epstein
That summertime humidity is with us for Halloween and into Friday morning before the fall crispness returns during the day. Dew points well into the 60s! pic.twitter.com/q410kYRqca

— Dave Epstein (@growingwisdom) October 29, 2019
Showers move in during the day on Thursday. Early look at how much rain will have fallen by 8 p.m. on Halloween. pic.twitter.com/iEbecIOKLm

— Dave Epstein (@growingwisdom) October 29, 2019
Dewpoints running nearly 30F higher than average Halloween into early Friday morning

Record in Boston for highest during November is 68F…might be close pic.twitter.com/TMeYAoqm2n

— Eric Fisher (@ericfisher) October 28, 2019
What a forecast map on #Halloween with a major temperature split. Record cold Rockies/Plains, record warmth east coast. pic.twitter.com/mPr1zTJhTh

— Eric Fisher (@ericfisher) October 28, 2019
Do I think there's a chance of a dry patch for trick-or-treating? Yes, there is hope for that. Timing will hopefully get locked down on Wednesday to plan for it.

Very windy conditions possible though, gusting over 30mph pic.twitter.com/51xS3ko4ec

— Eric Fisher (@ericfisher) October 29, 2019
May need to waterproof those little ghosts and goblins Thursday evening, but at least it'll be mild. Temps may even tick up a couple degrees through the evening. Gusty southerly breeze is with us too. pic.twitter.com/FWKCV95dFU

— Chris Lambert (@clamberton7) October 28, 2019
Hold on to your witches hat type of night Thursday. Gusts near 40mph out of the south on Halloween Evening. pic.twitter.com/MczbA6JtPL

— Chris Lambert (@clamberton7) October 29, 2019
Mid 60s, a bit muggy with scattered showers and gusty winds Thursday evening. pic.twitter.com/N4J6yEpuuv

— Chris Lambert (@clamberton7) October 29, 2019
Turning warmer with 60°s mid to late week… but it comes with more wet weather. Turn on #wcvb for forecast details pic.twitter.com/F9bowLpfco

— Cindy Fitzgibbon (@Met_CindyFitz) October 29, 2019
Another soaking rain coming Thursday night into Friday morning. Rainfall likely ~1″ with scattered showers around for trick or treat time. Southerly winds could gust to 40mph Thursday evening- then shift to the west Friday clearing us out by afternoon #WCVB pic.twitter.com/Ahz1gfboUA

— Cindy Fitzgibbon (@Met_CindyFitz) October 29, 2019
https://twitter.com/ShiriSpear/status/1189176393432739840