Weather
Maps: Here's where snow is forecast to fall around Massachusetts on Tuesday
"Some slippery travel possible with falling temps."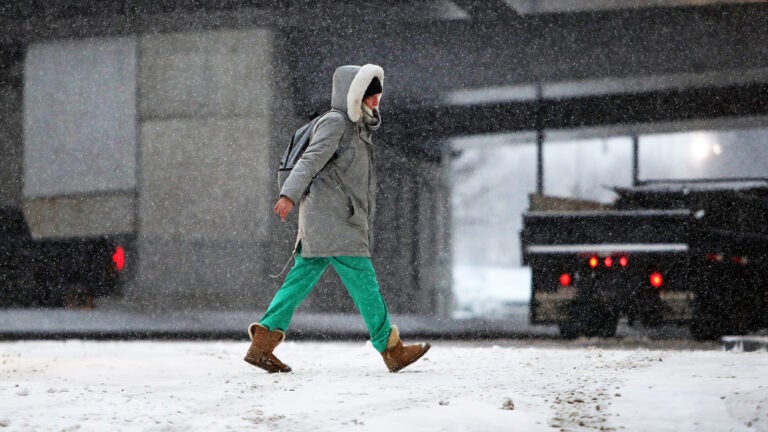 A strong cold front crossing the region Tuesday is forecast to bring rain — and a brief period of snow — to parts of Massachusetts.
The National Weather Service said with the rapidly falling temperatures, the best chance for snow will occur across the Bay State's higher terrain, across the western sides of the Berkshires and the Worcester Hills. The rain is predicted to change to snow Tuesday morning in interior parts of the state and during the afternoon in eastern Massachusetts.
"At this point, could see up to around an inch or so of snow in those higher locations," service forecasters wrote Monday morning. "Elsewhere, light snow accumulations, generally less than 0.5 inches even across coastal communities."
The snow will be "short-lived," but forecasters warned the cold and precipitation could cause hazardous conditions for drivers.
"Some slippery travel possible with falling [temperatures]," the service wrote.
[Record Cold Tue Night & Wed] Northwest wind gusts of 25 to 40 mph will usher in record cold Tue night and Wed. Lows should be mainly in the teens to lower 20s. Highs Wed in the upper 20s and lower 30s. Wind chills between 5 below and 10 above late Tue night/Wed am. pic.twitter.com/P8JMthRAA9

— NWS Boston (@NWSBoston) November 11, 2019
Later in the day, the region is predicted to see "record cold" into the evening and overnight into Wednesday, with temperatures dropping to the teens and lower 20s and wind chills below zero. 
Below, six maps from local meteorologists predicting where, and how much, snow could fall Tuesday in Massachusetts. 
Together, @DeniseNBCBoston and I are sharing a variety of snowfall accumulation views on @NECN this morning to cover both Southern and Northern New England, where a foot of snow is possible today through Tuesday. pic.twitter.com/0v19tSjtny

— Matt Noyes NBC10 Boston & NECN (@MattNBCBoston) November 11, 2019
Tomrrow moring starts as rain and changes to snow in the afternoon. Pavement is warm so unlikely to stick on roads but could see a coating on grassy and elevated surfaces Tuesday afternoon/evening. pic.twitter.com/Tz8aiicUlo

— Josh Wurster (@joshwurster_) November 11, 2019
TUESDAY snow will stick in the afternoon after morning rain. Coating – 1″ locally, more in the mountains. @boston25 pic.twitter.com/UzF1HhYWlH

— Shiri Spear (@ShiriSpear) November 11, 2019
Messy Tuesday on the way… Rain with temps around 50° in the morning dropping into the 30°s in the afternoon with a flip to snow! Not expecting much, but some patchy coatings possible mainly on grassy surfaces #WCVB pic.twitter.com/j2zaMgxVGA

— Cindy Fitzgibbon (@Met_CindyFitz) November 11, 2019
https://twitter.com/wbz/status/1193841691536564225