Weather
8 things Boston residents need to remember when it snows
You don't want to be caught unprepared.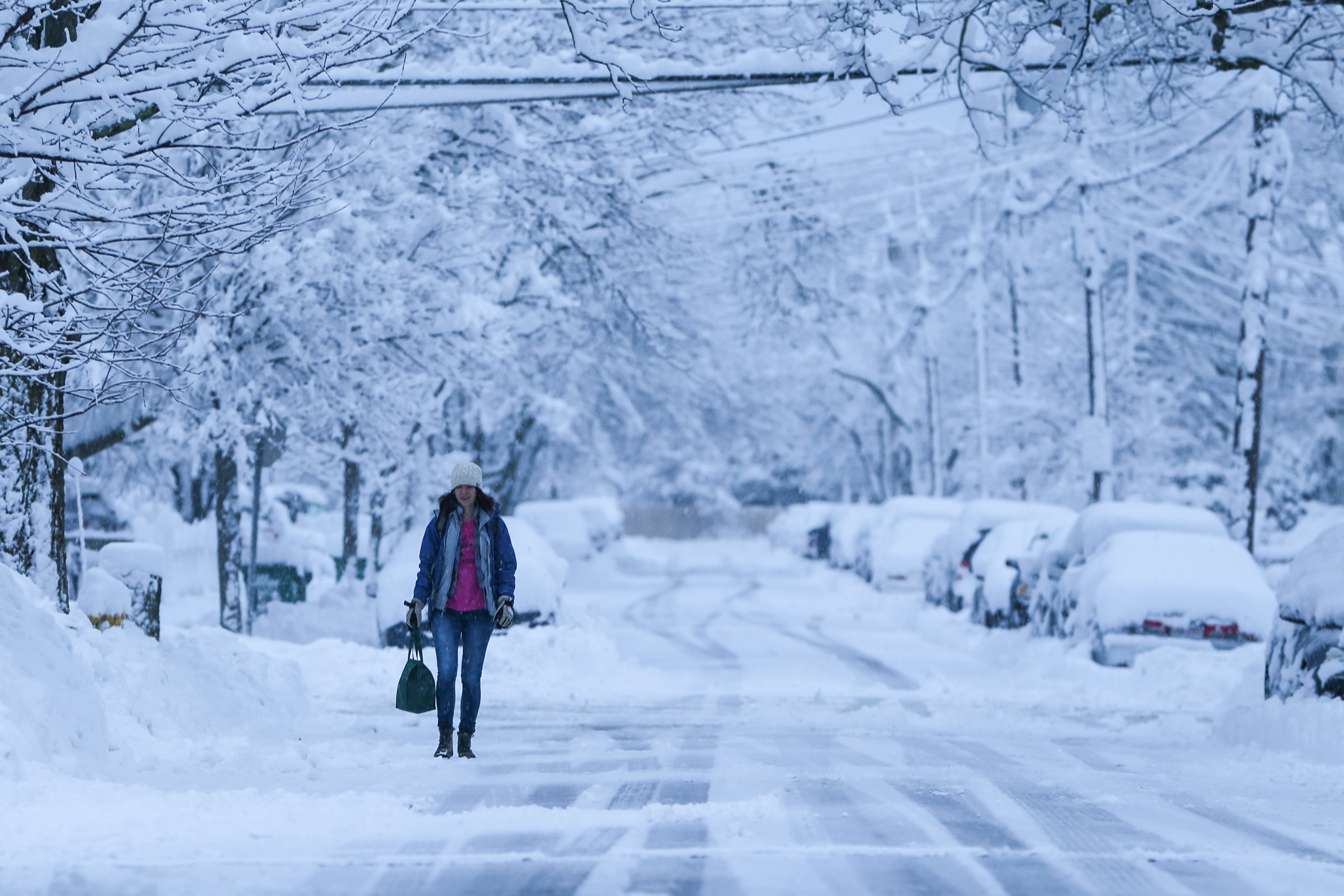 While the official start to winter isn't until  Dec. 21, some wintry weather is already arriving. The City of Boston is ready for the snow — the Public Works Department has 48,000 tons of salt on hand, according to a news release, and Mayor Walsh recently announced his city's preparations. Below, we've outlined eight guidelines from the city to keep in mind when Boston is blanketed in white.
Snow clearing rules
Property owners must fully clear sidewalks and curb ramps bordering their property within three hours after snowfall ends.  Or, in the case of an overnight storm, the areas must be cleared three hours after sunrise. Don't move snow, sleet, or ice from a private property onto the sidewalk or street, or you could risk a fine. In the case of storms lasting over an extended period of time, the city asks that owners continually check and clear ramps adjacent to their property.
What to do with your car
After a snow emergency is announced, do not park on main roads, as they need to be clear for emergency vehicles and plows. Discounted parking is available in certain garages with a valid resident parking permit. Streets with restricted parking, as well as snow emergency parking lots, are outlined on this map. Note that parking meters are still in effect during a snow emergency.
After it snows, clear the snow at least one foot around your muffler before turning the car on. You can still keep streets as clear as possible for emergency vehicles and plows by parking at least 20 feet away from intersections and no more than one foot from the curb. Make sure you don't block bike lanes, corner pedestrian ramps, driveways, fire hydrants, sidewalks, or the street.
Space saver protocol
All space savers must be removed within 48 hours after the lift of a snow emergency. No space savers are allowed in the South End.
Driving tips
Be extra cautious driving during and after snowfall, and don't drive during severe storms or snow emergencies. Remove any snow from the roof of your car before taking off, as it could fall while you're driving and become hazardous to yourself or other drivers. Remember to treat broken traffic lights like stop signs, and take an extra moment to check for pedestrians or oncoming traffic around intersections with high snowbanks.
Trash and recycling pickup may be delayed
To review your recycling and trash schedule, you can visit the city website or download their Trash Day app. Also, try to clear an area at the curb for trash and recycling bins, or place them in front of snowbanks. This helps crews access your receptacles, which can be hard to reach behind mounds of snow. 
Dress appropriately to prevent hypothermia and frostbite
The city suggests piling on multiple layers of loose, lightweight, and warm clothing as opposed to a single heavy layer. Try to wear outer garments that are lightly woven and water repellent, and wear mittens or gloves. It is recommended that you always wear a hat and cover your mouth with a scarf to protect your lungs. Signs of frostbite include loss of feeling and paled or white appearance in extremities including fingers, toes, ear lobes, and the tip of the nose. Signs of hypothermia include apparent exhaustion, disorientation, drowsiness, incoherence, memory loss, slurred speech, and uncontrollable shivering. If you or someone you know is showing these symptoms, you should get medical help immediately.
How to stay safe
There are a few different ways to make sure you and your loved ones have safe snow days. The first is to be careful not to overexert yourself while shoveling snow. If you begin to have chest pain or shortness of breath, become lightheaded, or feel nauseous or vomit, stop shoveling. If symptoms don't cease shortly after, call 911. You can also check that your household exhaust pipes such as gas exhaust from a dryer or heating system are clear of snow, and don't let children sit in an idling car with a blocked tailpipe, as this can be deadly. Make sure catch basins and fire hydrants are clear of snow (there's a map of these on the Boston Water and Sewer Commission website), and consider having a contractor check if the snow on your roof needs to be removed. Proceed carefully if the snow can be removed while on the ground using a snow rake, but try to avoid using ladders. Finally, check on your neighbors, especially the elderly and those with disabilities.
AlertBoston offers emergency notifications
For information on parking bans, school delays and cancellations, and snow emergencies, you can also take a look at the city's website and follow @CityofBoston on Twitter. And for non-emergency issues, residents can use the 311 call center.
For more information on preparing for snowfall, refer to the Boston winter guide on the city's website.