Weather
7 maps predicting how much snow could still fall in Mass. through Tuesday
"We are in the middle of a prolonged winter storm."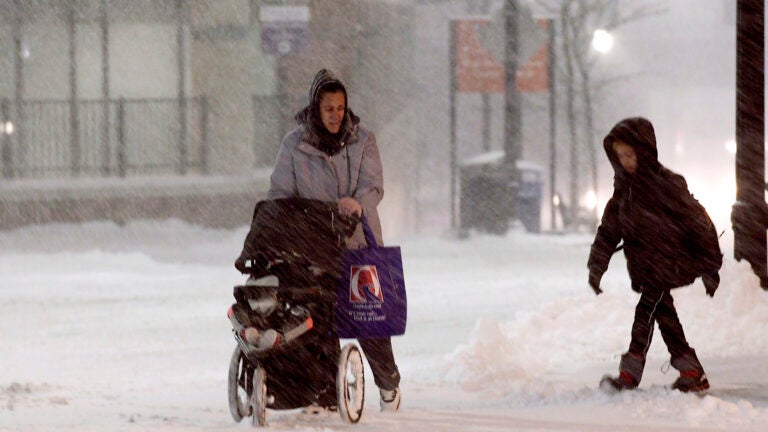 The winter storm dumping snow, sleet, and rain across Massachusetts isn't over yet. 
"We are in the middle of a prolonged winter storm," the National Weather Service said Monday morning. 
The storm, which began Sunday, is forecast to continue to bring additional snowfall to the region through Tuesday morning. Most of Massachusetts is under either a Winter Storm Warning or Winter Weather Advisory through 7 a.m. Tuesday morning.  
So far, the service estimates eastern Massachusetts has seen between two and three inches of accumulation, while the central and western parts of the state have observed higher totals ranging from nine inches in Spencer to 10 in Williamstown.
Here are seven maps predicting how much more snow to expect from the storm:
[Breaking] Winter Storm Warning eastern #MA Tue for 4-8″ from Plymouth – Boston – Cape Ann & into the Merrimack Valley. Heaviest #snow 4 am to 10 am. Some uncertainty on storm track. If storm tracks farther offshore lower values will be realized, higher values if it tracks closer pic.twitter.com/4a8tko4pam

— NWS Boston (@NWSBoston) December 2, 2019
Snow will be heaviest tomorrow in the 4 am to 10 am window. Ending west to east. Lingering snow immediate coast could go to noon. pic.twitter.com/KzwpjNRefx

— Dave Epstein (@growingwisdom) December 2, 2019
The final phase!

This is *additional* snow this evening through tomorrow. I'm confident in a snowy morning commute tomorrow. I'm confident many get 3-6″ more. *IF* that heavy band gets onshore tomorrow, there's a risk of 6-9″ near the coast, heaviest 5-10am. pic.twitter.com/OlkO2X0Mjw

— Eric Fisher (@ericfisher) December 2, 2019
https://twitter.com/MetMikeWCVB/status/1201613876409839621
Monday Morning: Coastal front keeps the light snow going inland today (esp north/west of Boston). Front sags south this eve changing light rain to snow tonight along coast. Steady-heavy snow late tonight-Tuesday AM. Snow map shows additional accumulation on the way. #7news pic.twitter.com/zHENfA2Sax

— Jeremy Reiner (@jreineron7) December 2, 2019
Looks SNOWY for the AM commute tomorrow. @KevinBoston25 & @vickigrafwx will be updating this afternoon stay tuned! pic.twitter.com/wilcLySGWj

— Jason Brewer (@JBrewerBoston25) December 2, 2019
https://twitter.com/MattNBCBoston/status/1201535985223421968