Weather
Here's David Epstein's snowstorm forecast
The timing of this storm is as inconvenient as possible for the morning commute.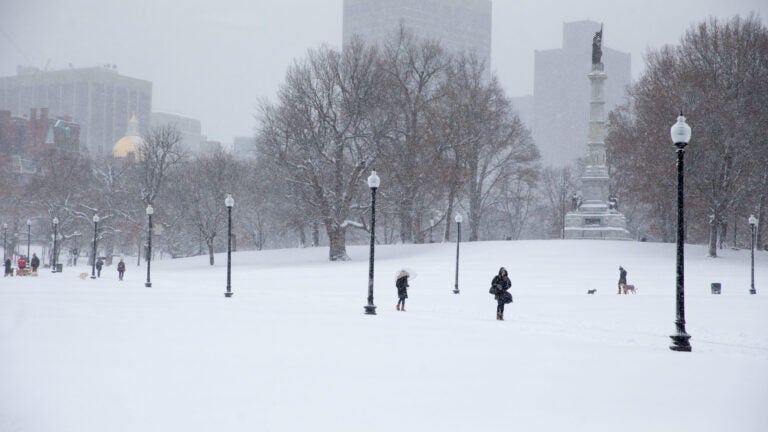 A storm system continues to get stronger south of New England this morning it has put bands of snow back into much of southern New England to start our Tuesday.
The water vapor loop over the past few hours shows the swirl in the atmosphere associated with the developing out over the ocean, but it's also moving southeast at the same time. This means that the snow will end from west to east during the latter half of the morning and first hour or two in the afternoon.
Dynamic, but progressive. Water Vapor loop this morning. pic.twitter.com/6jI7pSrjE3

— Dave Epstein (@growingwisdom) December 3, 2019
The snowfall rates have been highly variable this morning with areas having little or no accumulation in an hour and other areas seeing an inch or more in an hour. This will be the trend for the morning. The further west you are, the less snow there will be.
Over Cape Cod and the islands, it's still too warm for much in the way of snowfall, but I still think cold air will make it in there before the precipitation completely shuts off for a coating to a couple of inches.
Total accumulation this morning will generally range from 2 to 5 inches with a few spots coming in a little bit higher as a localized band ends up remaining in place for an hour or so.
The timing of this particular part of the storm is about as inconvenient as it can get for the morning commute.
This is why so many schools ended up canceling because road crews will have a very tough time keeping up with these heavy bands for the first few hours of the morning.
As these elements of snow continue to rotate on the western side of the storm, we may see the snowfall let up a little bit before a new area comes in off the ocean and resumes the snowfall.
Snow will linger this morning. Will be watching radar trends as storm continues to undergo development. Snow has been very banded. Meaning it goes from heavy to light quickly/over short distances. Low confidence higher snow Essex to coastal Norfolk/Plymouth Counties. pic.twitter.com/UdUoDU4PFD

— Dave Epstein (@growingwisdom) December 3, 2019
I don't think you're going to want to clean up until those final bands are offshore because the risk will be you end up with another half inch to an inch of snow after already shoveling. All of this should be done between noon and 1 p.m.
If you don't like shoveling multiple times, wait a while. Noon radar projection from one model still saying it's snowing in eastern areas. pic.twitter.com/Rkkr8oSiBP

— Dave Epstein (@growingwisdom) December 3, 2019
Behind this system, skies will clear for the overnight hours and temperatures will fall down into the 20s with the fresh snow cover.
The rest of the work week looks generally dry although there could be a little bit of rain or snow toward Friday. Temperatures will only be in the upper 30s for much of the time, meaning ,with the low sun angle and cold temperatures, the snow is going to stick around for a while.