Weather
Maps: How much snow is forecast to accumulate on Wednesday
"Snow ends from west to east by lunchtime."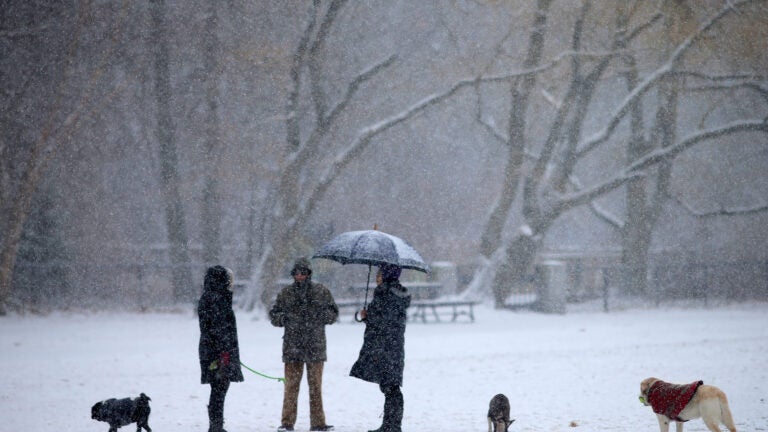 Travelers are forecast to see a "difficult morning commute" on Wednesday as snow falls across Massachusetts. 
"Snow ends from west to east by lunchtime, except [it] may linger into early afternoon across the Cape/Nantucket," the National Weather Service said. 
[Approximate Timeline] Rain will be transitioning to snow across interior MA/CT through 1 AM, the Boston to Providence corridor between 1 and 4 AM, and the Cape/Islands between 4 and 7 AM. Hazardous travel for the AM commute in the Boston, to Providence, to Hartford metro areas. pic.twitter.com/CvoDLWZw0f

— NWS Boston (@NWSBoston) December 11, 2019
The service has issued a Winter Weather Advisory for southeastern Massachusetts and the Cape, which is in effect through 10 a.m.
Service forecasters are predicting much of the state could see 1 to 4 inches of snow accumulation — potentially 5 in some places. Parts of the western Bay State could see just a coating to an inch.
 "While the bulk of the accumulating snow will be ending across the interior shortly, several more hours of snow will occur across RI into eastern MA so roads will be deteriorating in this region," the service wrote. "Lingering rain across the Cape/Islands will be changing to snow over the next few hours."
Below,  six maps from local forecasters predicting the snow totals across the state. 
Generally a couple of inches for most. pic.twitter.com/EIFgdnydpi

— Dave Epstein (@growingwisdom) December 11, 2019
Expect 1-4″ of snow along this front today. Snow will have an impact on the morning commute before tapering off around midday today. pic.twitter.com/rjVZzpb3p8

— Vicki Graf (@VickiGrafWX) December 11, 2019
No major changes. Still thinking a coating to 2″ for most…maybe some spot 3s. Main impact is falling temps that will be icing up the wet roads overnight into tomorrow morning…use caution out there through the commute. #wbz pic.twitter.com/pjzJQGRjHy

— Eric Fisher (@ericfisher) December 11, 2019
Light rain flips to light snow overnight and continues through Wednesday AM. Map shows snowfall potential by late morning. 2″ or less in Boston. 2-4″ in Worcester county as well as portions of SE MA. Slick travel for a few hours early Wednesday. #7news pic.twitter.com/MgufCHSl51

— Jeremy Reiner (@jreineron7) December 11, 2019
https://twitter.com/PeteNBCBoston/status/1204516415744696320