Weather
Here's how much snow and ice is expected to accumulate in Massachusetts on Tuesday
"Take precautions this morning and prepare for reduced visibility and icy roads on your AM commute."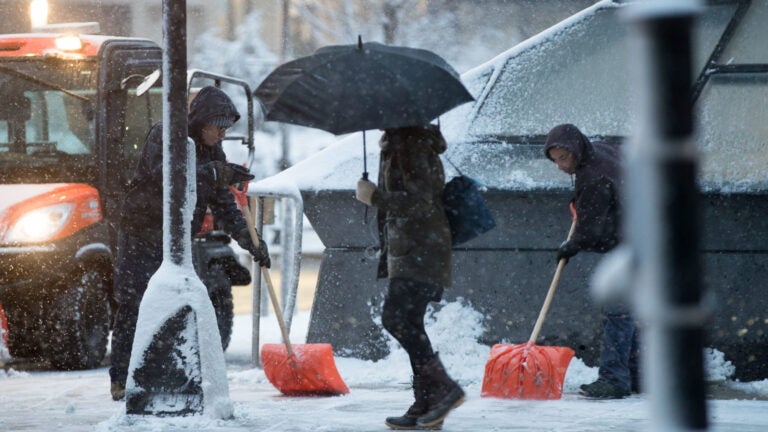 A wintry mix of snow, sleet, and freezing rain will impact the morning commute Tuesday, forecasters warned. 
"Take precautions this morning and prepare for reduced visibility and icy roads on your AM commute," the National Weather Service said. 
Service forecasters cautioned that the morning's commute will be "especially difficult" across Southeastern Massachusetts, Rhode Island, and Connecticut, where the snow is predicted to become a mix of freezing rain and sleet.
The wintry mix is forecast to hit the Mass. Pike between 9 a.m. and 11 a.m., making for "slick travel," the service said. Parts of Rhode Island and Connecticut could see "moderate" ice accretion. 
"Locations north and west will see [precipitation] transition to a mix by the early afternoon," forecasters said. "Coastal areas will see precipitation gradually change over to all rain. Anticipate the heaviest precipitation from 7 a.m. until 1 p.m."
The weather system is predicted to transition from a wintry mix to all snowfall from northwest to southeast during the afternoon into the evening, with precipitation tapering off during the evening. 
"The evening commute could be slick across the interior as precipitation changes over and winds down," the service said. 
In total, service forecasters are predicting Boston could see between 3 and 4 inches of snow, while higher totals — up to 6 — could accumulate in northern parts of the state. Below, seven maps from local meteorologists forecasting how much snow could accumulate from Tuesday's storm. 
Shifted everything north this morning. Less snow impact, but still sleet/fr rain and then back to snow later this evening before ending. pic.twitter.com/I6GC0I1KG9

— Dave Epstein (@growingwisdom) December 17, 2019
Snow has begun falling around the region and will make for a messy commute. @sarahwroblewski has a timeline for today's storm. https://t.co/mraSeftPKH pic.twitter.com/QI5msCA8kc

— WBZ | CBS Boston News (@wbz) December 17, 2019
Updated snow map… Along and south of Pike, a couple inches or less before the flip to ice/rain. Highest snow totals near MA/NH border. pic.twitter.com/FiKqbo5D5L

— Chris Lambert (@clamberton7) December 17, 2019
Tuesday snow potentail before the change to sleet & freezing rain inland & to sleet and rain along the coast. If snow is slow to begin early Tuesday and/or warmer air aloft comes in a bit more quickly, then the lower numbers in the range are likely #wcvb pic.twitter.com/Pl4xKYQnZ6

— Harvey Leonard (@HarveyWCVB) December 17, 2019
As requested, the most recent snow map. Mixing and a flip to rain will keep totals lower at the immediate coast and along/south of the Pike. You will need to be careful for ice too. pic.twitter.com/NST1TC0GyC

— Shiri Spear (@ShiriSpear) December 17, 2019
https://twitter.com/MattNBCBoston/status/1206673405656928266