Weather
3 maps showing what to expect from the 'prolonged precipitation event' Sunday to Tuesday
"We expect to dry out on New Years Day."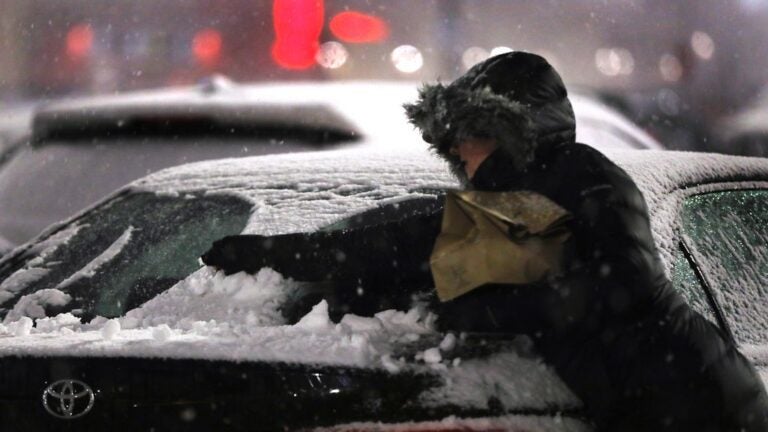 A complicated winter storm is expected to unfold late Sunday into Tuesday, according to the U.S. National Weather Service Boston.
"It's going to be a real wintery mess for the area," National Weather Service meteorologist Rodney Chai told Boston.com.
The Greater Boston region is under a winter weather advisory, and forecasters expect the region will see mostly sleet and rain.
"You can't rule out traces of ice," Chai said. "People should still be careful and expect a slow Monday morning commute, and possibly into the evening as well."
An ice storm warning is in effect for the Berkshires, which could see one-half to one inch of ice accumulation, according to Chai. "The community there can expect widespread power outages and downed trees," he said.  
Areas to the east into Worcester County are under a winter storm warning, and they're expected to see one-quarter to one-half inch of ice.
"That's still a lot of ice, but not as debilitating as the east slopes of the Berkshires," Chai said, adding that interior Massachusetts can expect sleet, snow, and rain, "a little bit of everything." 
Forecasters predict the storm will come in from the west Sunday night. "The Berkshires can expect the storm to start impacting them at around 6 or 7 p.m.," Chai said. "By the time it gets to Boston, we're talking 11 p.m. or midnight."
The only places that are not under winter weather advisories are Plymouth County, Bristol County, Cape Cod and the islands, and southern Rhode Island."
"Those areas will pretty much get rain from this event," according to Chai.
Tuesday will likely change over to mostly rain, drying out by Tuesday evening. 
Here are three maps detailing what to expect from the storm:
Winter watches, warnings, and advisories:
Expected icing:
Precipitation onset time: