Weather
Maps: Forecasters predict how snow could impact Thursday morning's commute
"While significant amounts of snow/ice are not expected, slippery travel is likely especially northwest of the Boston to Providence corridor."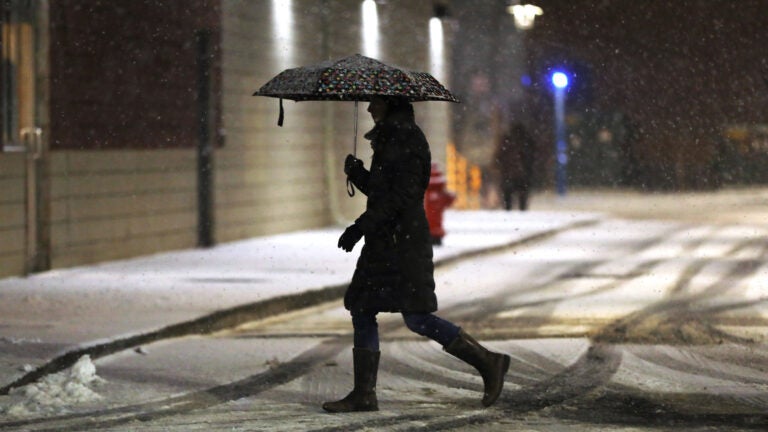 Wintry weather could make Thursday morning's commute slippery.
The National Weather Service is forecasting the mixed precipitation will begin to fall in Massachusetts on Wednesday night and continue into Thursday morning rush hour before it switches over to rain. 
"While significant amounts of snow/ice are not expected, slippery travel is likely especially northwest of the Boston to Providence corridor," service meteorologists wrote. 
Ultimately, the service is predicting only a coating of snow for much of the state before the precipitation changes to rain. 
"The rain will fall heavily at times Thursday night, then will taper off during Friday but may briefly change back to snow before ending inland," the service said. 
Below, local forecasters predict where, and how much, snow could fall across the state.  
Snow and sleet accumulations not all that high, but it will be enough to impact the morning commute Thursday. Especially away from the coast and north of the Pike. pic.twitter.com/XeqK9XySbI

— Chris Lambert (@clamberton7) February 4, 2020
A closer look at THURSDAY…
Snow and sleet will make for a SLIPPERY AM COMMUTE. Freezing rain may linger over the interior N&W of I-495 thru midday keeping it slick. Snow accumulation >1″ looks primarily confined to northern MA/southern NH #wcvb pic.twitter.com/9iMklVosB1

— Cindy Fitzgibbon (@Met_CindyFitz) February 4, 2020
A look at how Thursday is likely to turn out #wcvb pic.twitter.com/l7dUYTZ6np

— Harvey Leonard (@HarveyWCVB) February 4, 2020
ICYMI on TV this morning 4-7am on NBC10 Boston…late week storm may deliver Thursday AM commute snow and half a foot of snow to Northern New England! https://t.co/fNfw9xNDbX

— Matt Noyes NBC10 Boston & NECN (@MattNBCBoston) February 3, 2020
Interior areas looking at a better chance for snow accumulation and ice accretion on Thursday morning. Coastal spots not totally out of the woods but should be a mainly rain event past 8am. pic.twitter.com/g5KjehLqAE

— Zack Green (@zackgreenwx) February 4, 2020
https://twitter.com/ShiriSpear/status/1224671747192115201