Weather
Maps: How the Thursday morning commute will be impacted by a wintry mix
"While this will not be a big storm, timing of it is far from ideal."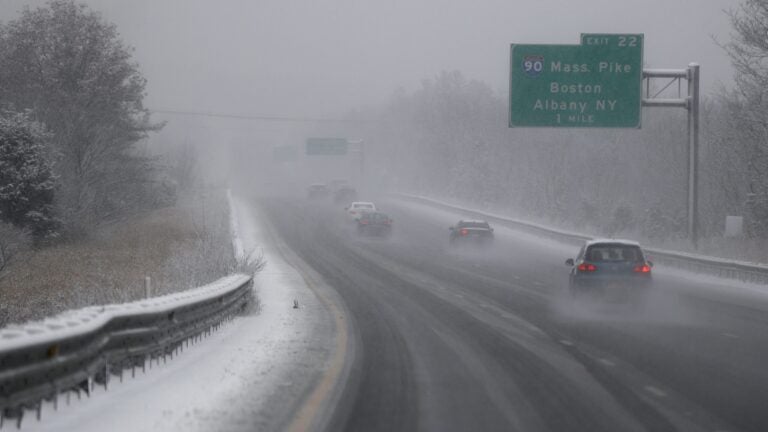 Commuters should prepare for slippery travel on Thursday morning. 
The National Weather Weather Service has issued a Winter Weather Advisory for most of Massachusetts, in effect starting around 1 a.m. Thursday through 1 p.m., due to the wintry mix of precipitation — snow, sleet, and freezing rain — in the forecast. 
"While this will not be a big storm, timing of it is far from ideal," service forecasters said. 
[Thu AM Commute] High confidence that a wintry mix of snow, sleet and freezing rain impacts much of our region for the Thu am commute. While this will not be a big storm, timing of it is far from ideal. Not meant to be exact, but this is snapshot from of our models at 7 am Thu. pic.twitter.com/NlIDxYnubJ

— NWS Boston (@NWSBoston) February 4, 2020
Precipitation is forecast to begin in Boston around 5 a.m. Thursday, and snowfall is predicted to eventually transition to rain across the region, but not until largely after the morning commute.
"Some areas towards the Berkshires could hold onto some freezing rain or sleet well into Thursday afternoon," the service said. "This is but one of the details still to be refined with later forecasts. Overall, looking at possibly up to a couple of inches of snow, with higher amounts north of the Mass Pike. Also, a few hundredths of an inch of ice is possible across the coastal plains, with up to two tenths of an inch possible across the interior high elevations."
Below, what local forecasters are saying about the storm and its potential impacts.
In spite of some wintry precipitation for the Thursday morning commute, things will warm up quickly along the coastline. Should be into the 40s south of Boston. pic.twitter.com/IvyOn8dTaS

— Dave Epstein (@growingwisdom) February 4, 2020
Snow, Ice and Rain will make for some SLICK commutes late week.
The Thursday AM commute will be toughest with snow and sleet for many.
Icing may linger N&W of I-495 into Friday morning while heavy rain will cause ponding of water on the roads elsewhere #WCVB pic.twitter.com/sJhKY2uMPE

— Cindy Fitzgibbon (@Met_CindyFitz) February 5, 2020
Thursday morning snow and sleet doesn't amount to much… 1-3″ N&W of 128 … but it will make for slippery travel.
Friday morning HEAVY RAIN could cause localized poor drainage flooding in SE MA #WCVB pic.twitter.com/KCFlLEUmMp

— Cindy Fitzgibbon (@Met_CindyFitz) February 5, 2020
Here we go…
Advisories & Watches have been issued for the storm starting tonight.
Longest last impacts from snow/ice north & west of #Boston. @boston25 pic.twitter.com/QbHZjZ8ff7

— Shiri Spear (@ShiriSpear) February 5, 2020
I need to stress… Snow is NOT the biggest concern with the upcoming storm. Turn on @boston25 to see the lingering ice in some spots & heavy rain in others through Friday… pic.twitter.com/NzDFFJo0R6

— Shiri Spear (@ShiriSpear) February 5, 2020
Thursday timeline:
?Snow for a brief period at the onset of this system.
?Transition to freezing rain/sleet at the height of morning commute (6-9am). Tricky travel.
?Switch to rain for eastern MA near noon.
?All rain come the afternoon hours. Less impact for evening commute. pic.twitter.com/EpJolzvmJh

— Zack Green (@zackgreenwx) February 5, 2020
No changes for Thursday AM's commute. Maybe an hour or two of snowflakes but mostly sleet and freezing rain for a slick start. Minor accumulations. #wbz pic.twitter.com/JBzUzw5iAw

— Eric Fisher (@ericfisher) February 5, 2020
Snow and sleet breaks out 2-4am Thursday. pic.twitter.com/nrh8rWwVaf

— Chris Lambert (@clamberton7) February 5, 2020
Flips to rain for most inside 495 by 9am. Freezing rain still possible northwest of 495. pic.twitter.com/3U2r3bo4qi

— Chris Lambert (@clamberton7) February 5, 2020
https://twitter.com/MichaelPageWx/status/1225052842286776322