Weather
6 maps forecasting the potential snow arriving Friday night and Saturday
Forecasters are warning to expect "blustery and near record cold" on Saturday.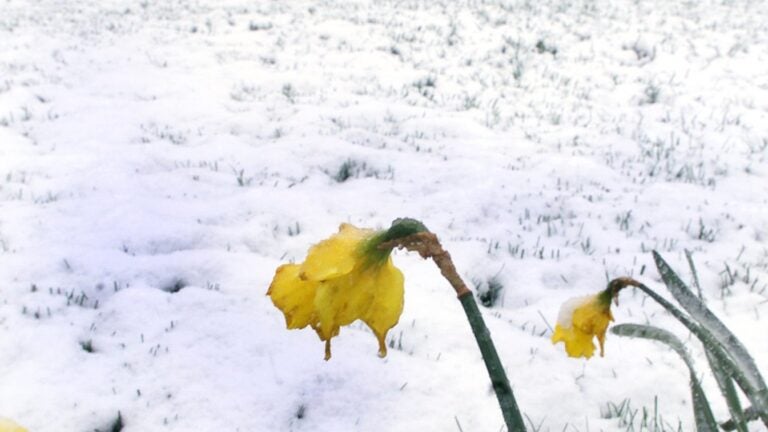 Warm May temperatures will be on hold this weekend, with forecasters predicting that "unseasonably cold weather" will bring snow to parts of Massachusetts.
Rain arriving Friday night is expected to change over to a period of accumulating snow over the state's higher elevations, according to the National Weather Service.
"Blustery conditions with near record cold temperatures are expected for Saturday with scattered rain and higher elevation snow showers," service meteorologists said.
Western parts of Massachusetts could see accumulations of a few inches of the white stuff, and wind chills on Saturday afternoon are forecast to range between the low 20s and mid-30s.
[515 am] Sunshine will give way to increasing clouds this afternoon. Rain develops late today and this evening, changing to a period of accumulating snow tonight in the higher elevations. Then windy with near record cold Sat/Sat night. pic.twitter.com/3Qh0qZwvN3

— NWS Boston (@NWSBoston) May 8, 2020
Enjoy the sunshine tomorrow morning & pleasant temperatures before #winter briefly returns Fri night into Sat night with a touch of #snow (coating to 2″, mainly non paved surfaces), near #record #cold temps & blustery winds. #MA #RI #CT #Boston #Providence #Hartford #Worcester pic.twitter.com/e8frS11jWb

— NWS Boston (@NWSBoston) May 7, 2020
Below, six maps from local forecasters predicting where snow could fall from the storm arriving for the weekend.
Can clearly see how the models account for higher elevation possibility of a coating of snow tonight and early tomorrow. This is the area that she's the best chance of some on the grass. pic.twitter.com/wVmf8KUruh

— Dave Epstein (@growingwisdom) May 8, 2020
Same thought as yesterday… Only a possible coating on the grass in parts of eastern MA. Elevations have a better chance for minor accumulation tonight. @boston25 #mawx pic.twitter.com/eu2mLhZksM

— Shiri Spear (@ShiriSpear) May 8, 2020
WINDY AND COLD MOTHER'S DAY WEEKEND…
Evening rain changes to snow tonight with a coating-2″ possible N&W of I-495.Feeling more like MARCH THAN MAY on SATURDAY- Only in the 40°s with wind gusts to 40mph and WIND CHILLS in the 30°s all day! BRR Brighter for #MothersDay #WCVB pic.twitter.com/naaWEcmOjs

— Cindy Fitzgibbon (@Met_CindyFitz) May 8, 2020
Snow accumulations are limited in Southern New England. More widespread up north. pic.twitter.com/VwEje89xxw

— Chris Lambert (@clamberton7) May 8, 2020
WEATHER ALERT: Rain, Hint Of Snow, And Possible Record Cold To Start Mother's Day Weekend (via @zackgreenwx ) https://t.co/Wh3bCYGT4n pic.twitter.com/775JKp2XOQ

— WBZ | CBS Boston News (@wbz) May 8, 2020