Weather
What local meteorologists are saying about the potential thunderstorms Monday afternoon
"The primary threats are hail, gusty winds, and lightning."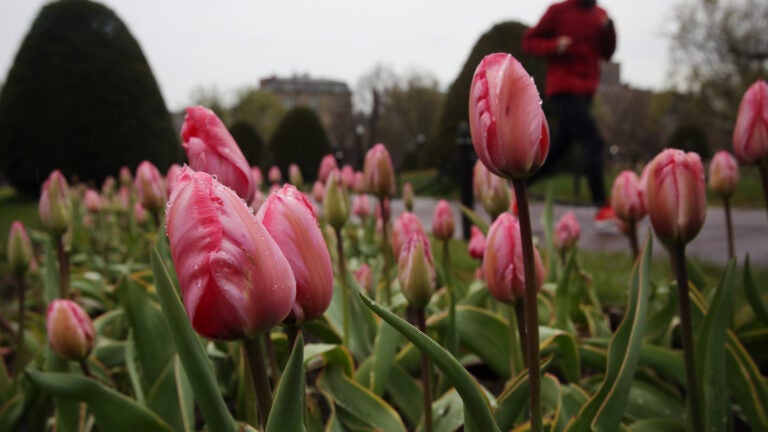 The week is kicking off with some wet weather and potential thunderstorms on Monday.
Forecasters are predicting Massachusetts and Southern New England will see a period of rain showers during the morning hours, with potential scattered thunderstorms appearing during the afternoon north and west of Route 128. Some of the storms may be on the "strong side," the National Weather Service says.
Below, what local forecasters are saying about the potential for stormy weather on Monday.
National Weather Service: "The primary threats are hail, gusty winds, and lightning."
[6 AM] ⛈️Rain returns later this morning, then scattered thunderstorms during the afternoon. The primary threats are hail, gusty winds, and lightning #MAwx #RIwx #CTwx ⛈️ pic.twitter.com/V4xENjXEs9

— NWS Boston (@NWSBoston) May 11, 2020
[8:35AM] While everyone has a chance of hearing thunder this afternoon, those across western Massachusetts are at the greatest risk for seeing a strong to severe thunderstorm. Remember, when thunder roars, go indoors! #MAwx #RIwx #CTwx pic.twitter.com/vhbRH74HmL

— NWS Boston (@NWSBoston) May 11, 2020
Shiri Spear, Boston 25 News: "The #Boston area will probably stay dry through late morning. Storms will peak this afternoon."
The #Boston area will probably stay dry through late moring. Storms will peak this afternoon. @boston25 pic.twitter.com/0pJwujkdXm

— Shiri Spear (@ShiriSpear) May 11, 2020
All of southern #NewEngland has a risk for scattered strong to severe t-storms today. Damaging gusts are the main concern. @boston25 pic.twitter.com/FVK3fJIfiV

— Shiri Spear (@ShiriSpear) May 11, 2020
Chris Lambert, 7News: "Marginal risk for a severe thunderstorm that produces damaging wind gusts/quarter sized hail this afternoon. More likely to see pea-sized hail and gusts to 40mph in most storms."
Scattered storms develop today. Isolated midday, more widespread mid to late afternoon. Temps crack 60 for many, helping fuel the storms thanks to very cold air aloft. Small hail and gusty winds the main threat. pic.twitter.com/5HibJMZKF3

— Chris Lambert (@clamberton7) May 11, 2020
Marginal risk for a severe thunderstorm that produces damaging wind gusts/quarter sized hail this afternoon. More likely to see pea-sized hail and gusts to 40mph in most storms. pic.twitter.com/GG4JVKv8IS

— Chris Lambert (@clamberton7) May 11, 2020
Sarah Wroblewski, CBS Boston: "A few storms could be strong to severe with damaging winds & small hail this afternoon-evening."
Sunshine to start… expect clouds to increase today with a few showers/storms possible today. A few storms could be strong to severe with damaging winds & small hail this afternoon-evening. #WBZ pic.twitter.com/MwPsUyhsmY

— Sarah Wroblewski (@sarahwroblewski) May 11, 2020
Afternoon Thunderstorms Possible And A Mid-Week Chill (via @sarahwroblewski https://t.co/fYHYZtN3G8 pic.twitter.com/FtCkHnFmoB

— WBZ | CBS Boston News (@wbz) May 11, 2020
Southern New England with a marginal risk of severe t-storms from the SPC … A few storms may produce damaging winds and small hail. Timing 1-8pm #WCVB pic.twitter.com/p4X4QZkIDY

— Cindy Fitzgibbon (@Met_CindyFitz) May 11, 2020
https://twitter.com/Met_CindyFitz/status/1259794503986282496