Weather
Photos & Video: Flooding, power outage closes Norwood Hospital, submerges cars on Sunday
The hospital was closed Monday after dozens of patients were evacuated Sunday night due to flooding and a power outage.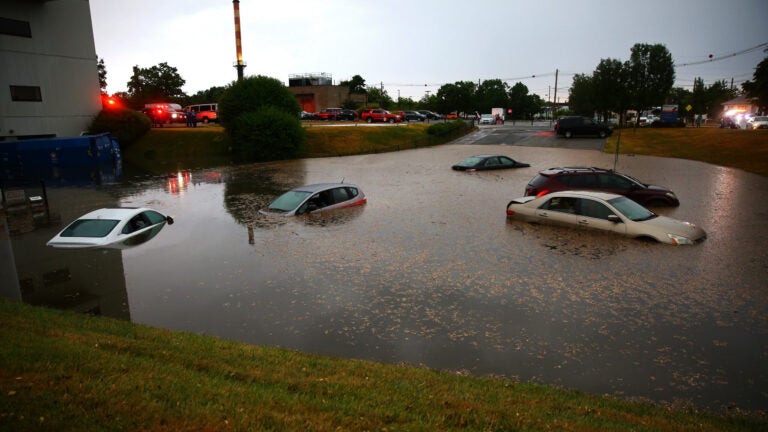 A power outage caused by heavy rain and flooding led to between 80 and 90 people being evacuated from Norwood Hospital Sunday night.
Authorities first evacuated the hospital's intensive care unit around 7:30 p.m., while another 60 to 70 patients were evacuated around 10 p.m. due to the ongoing power outage. Some patients were allowed to stay in part of the hospital where the power stayed on, according to Norwood Fire Chief George Morrice in a news release.
Norwood Hospital was closed Monday morning, officials announced, and all remaining patients were being transported elsewhere. There were over 5 inches of rain in some areas of Norwood, according to the National Weather Service.
No one was injured during the incident, and "the most critical patients" were moved first. Those who need emergency medical attention in the area are asked to go to Sturdy Memorial Hospital in Attleboro or Beth Israel Deaconess Needham. There's also Norwood Urgent Care at 120 Boston Providence Highway, the Norwood Fire Department noted in a release.
The fire department received about 75 calls during the storm Sunday night, including fires, lightning strikes, medical emergencies, and basements flooding, the department said on Facebook.
The call about the hospital came in around 4:46 p.m. for flooding in the basement, and the need for utilities to be shut off. Then water also began leaking into the roof and upper levels, the Facebook post said. Crews began evacuations and the department struck a second alarm for mutual aid to help.
"My take: Flooding has not been seen like this since March, 2010 floods & urban flooding of this severity has not occurred in Norwood since June, 1998," Joe DelliCarpini, the science and operations manager for National Weather Service Boston, said on Twitter.
24-hour rainfall total at my @CoCoRaHS station in Norwood, MA was 4.47″.

My take: Flooding has not been seen like this since March, 2010 floods & urban flooding of this severity has not occurred in Norwood since June, 1998.

— Joe DelliCarpini (@JoeDawg42) June 29, 2020
Pictures of flooding in downtown Norwood. Nahatan St RR underpass, Central St near Cottage St, East Hoyle St near Norwood Hospital, & Washington St near Dean St (where there was also a lot of debris). Avoid these areas! @NWSBoston pic.twitter.com/F5qsESkdhX

— Joe DelliCarpini (@JoeDawg42) June 28, 2020
Here are some photos and videos from the storm and its effects:
Check out this incredible video of flooding at Norwood Hospital! 👀 You can see water rushing through one of the parking lots and vehicles floating in the water. People inside the hospital say the generator is flooded and some of the rooms are flooding. https://t.co/ZPCMzGQ9xC pic.twitter.com/l29VMgAMNK

— WCVB-TV Boston (@WCVB) June 28, 2020
@boston25 Norwood High School pic.twitter.com/OXiRLVxosi

— Alena McKee (@AlenaMcKee) June 28, 2020
Drivers had to navigate floodwaters on Route 1 in Norwood, Massachusetts, as powerful storms hit the state. https://t.co/DvKxaCrC2N pic.twitter.com/Pc5GQlv5lz

— ABC News (@ABC) June 29, 2020
Holy flash flooding earlier! Norwood, MA 📹:Daddy's Dairy @NWSBoston @WX1BOX pic.twitter.com/mAUmmovkUg

— eweather (@Eweather13) June 28, 2020
https://twitter.com/colonialsthrows/status/1277365341635719169