Weather
Record temps? Here's the latest from local meteorologists about the sweltering heat
"Hottest day of 2020 for many."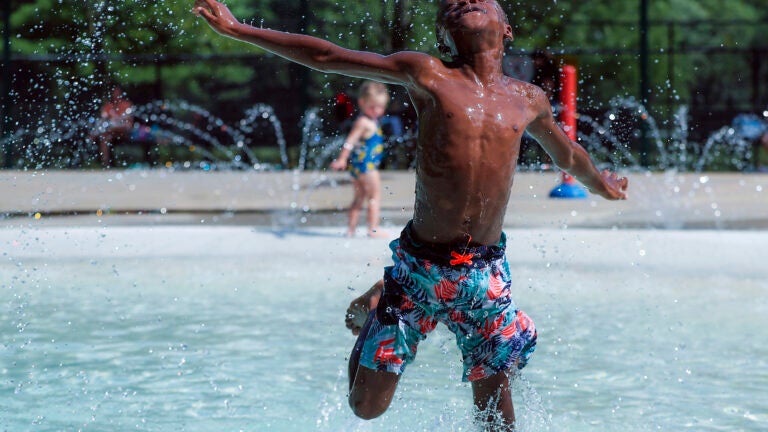 Monday and Tuesday are supposed to be hot, but just how hot?
The heat index, which is a measure of the temperature plus humidity, could top out in the triple digits on Monday, and close to it on Tuesday, the National Weather Service said.
Even without the humidity, just the high temperatures are supposed to be sweltering. The service noted that the area could break records over the next two days. At 1 a.m. Monday, it was still 81 degrees in Boston. By just before 11 a.m., the service reported it was 90 degrees at its Norton offices with a 73-degree dew point. Together, those make a heat index of 99 degrees.
[10:50 am] Not even 11am and we are 90°F with a dewpoint of 73°F at our office in Norton, MA. For reference that equates to 99°F heat index 🔥🥵 #MAwx

— NWS Boston (@NWSBoston) July 27, 2020
The heat index (combo of temp/humidity) will peak around 100 today. Urban areas are especially vulnerable since temperatures tonight will not get cooler than the upper 70s. Remember to follow these safety tips to avoid heat related illness! pic.twitter.com/xtkTm2ctz6

— NWS Boston (@NWSBoston) July 27, 2020
[Morning Briefing] Heat Advisory in #MA #RI #CT issued for dangerous #heat Today & Tuesday, with heat indices soaring to 95 to 104 each afternoon. In addition, #record highs are possible both days. #heatwave pic.twitter.com/wNsVEctHIA

— NWS Boston (@NWSBoston) July 27, 2020
#Boston shining bright on steamy July night … 81 degs at 1 am 😯 #MA pic.twitter.com/eyfwefTTnD

— NWS Boston (@NWSBoston) July 27, 2020
With the potential for record heat, the City of Boston has declared a heat emergency, and various Boston Centers for Youth and Families are to be set up as cooling centers between 9 a.m. and 5 p.m. on both days.
Reminder: Due to the heat emergency in Boston, we've opened up select @BCYFcenters to the public as cooling centers today and tomorrow, from 9 a.m. to 5 p.m.

Please remember to stay hydrated. If you go outside, rest often in shaded areas. Learn more: https://t.co/nDLPwRZYnk pic.twitter.com/1lbe4FFYp1

— City of Boston (@CityOfBoston) July 27, 2020
Good morning, Boston! It is going to be another scorcher.
• Stay hydrated! Drink plenty of fluids but limit the amount of sugar, caffeine, alcohol
• Limit outdoor activity to the morning and evening
• Use sunscreen
Visit https://t.co/WBkoLh80bC for a list of cooling centers pic.twitter.com/4knvVAWibN

— Boston Public Health (@HealthyBoston) July 27, 2020
When it is this hot outside, schedule your exercise and outdoor activities carefully. Morning and evening hours are best. Wear loose, lightweight, light-color clothing and sunscreen. Pace yourself. And drink plenty of water! Visit https://t.co/64YF9zQgF8 for more heat safety tips pic.twitter.com/KTikgrCdCA

— Boston Public Health (@HealthyBoston) July 27, 2020
Here's what local meteorologists are saying about the potential record heat: 
Cindy Fitzgibbon, WCVB: 'Heat Advisory today and tomorrow before the hot weather eases late week'
11AM TEMPS…
Climbing quickly- already touching 90° in a lot of spots … highs running between 94-100° this afternoon. Stay hydrated! #WCVB pic.twitter.com/vyE5xExkid

— Cindy Fitzgibbon (@Met_CindyFitz) July 27, 2020
MONDAY morning weather update…
⚠️ Heat Advisory today and tomorrow before the hot weather eases late week 🥵 #wcvb pic.twitter.com/P2qZ6d4bt4

— Cindy Fitzgibbon (@Met_CindyFitz) July 27, 2020
HOTTEST DAY OF THE YEAR…
A high of 97° in Boston today will make it the hottest day of the year so far… The heat continues into Wednesday before it eases late week #wcvb pic.twitter.com/OZs4BJ1GwS

— Cindy Fitzgibbon (@Met_CindyFitz) July 27, 2020
NEAR RECORD HIGHS…
Temps climb into the 90°s today nearing records for the date. Not out of the question that a few towns reach 100° this afternoon with a WSW wind at 10-15mph #wcvb pic.twitter.com/NkYl99VrcY

— Cindy Fitzgibbon (@Met_CindyFitz) July 27, 2020
Josh Wurster, 7 News: 'Hottest day of 2020 for many'

Heat Advisory in effect for both today and tomorrow. Hottest day of 2020 for many. pic.twitter.com/bxmvCSkICl

— Josh Wurster (@joshwurster_) July 27, 2020
Winter officially starts in 147 days. pic.twitter.com/fP5jnIPOIK

— Josh Wurster (@joshwurster_) July 27, 2020
Matt Noyes, NBC 10 Boston and NECN: 'Humidity actually has been much worse this year, but actual temperatures near 100° should break the Boston record of 98° set in 1882 for this date'
HOT! Humidity actually has been much worse this year, but actual temperatures near 100° should break the Boston record of 98° set in 1882 for this date (our #FirstAlert team is forecasting 99° – not an all-time record, but would be a record for today's date). pic.twitter.com/rrXO4J4lwl

— Matt Noyes NBC10 Boston & NECN (@MattNBCBoston) July 27, 2020
Official government observing sites that are strong contenders to hit the century mark today: Boston (forecasting 99°), Bedford MA, Norwood, Taunton, Nashua NH. Very likely we'll have a handful of towns without "official" observing sites in them that will hit 100°.

— Matt Noyes NBC10 Boston & NECN (@MattNBCBoston) July 27, 2020
A couple disturbances Tuesday – one AM, one PM = Increasingly humid, hot. A round of AM showers from west to east through Central New England in the morning, otherwise sun & clouds to scattered PM storms. Highs around 95, heat index just over 100. Southwest wind 6-16 mph.

— Matt Noyes NBC10 Boston & NECN (@MattNBCBoston) July 27, 2020
Wednesday the humidity drops but it'll still be around 90…then some scattered PM storms Thursday reinforce more comfy air heading into the weekend. pic.twitter.com/drlxUDgzYi

— Matt Noyes NBC10 Boston & NECN (@MattNBCBoston) July 27, 2020
Cape Cod should hit 90° in a few spots today. That's pretty darn HOT by Cape standards!

— Matt Noyes NBC10 Boston & NECN (@MattNBCBoston) July 27, 2020
Terry Eliasen, WBZ: 'Today should give us a new high for 2020 in Boston'
Today should give us a new high for 2020 in Boston pic.twitter.com/h8odw16yOm

— Terry Eliasen (@TerryWBZ) July 27, 2020
Best chance of an isolated thunderstorm this week comes Tuesday afternoon and evening pic.twitter.com/MliatyisiJ

— Terry Eliasen (@TerryWBZ) July 27, 2020
We will approach record highs today as the heat peaks…slightly "cooler" tomorrow pic.twitter.com/fOiNVPNGU3

— Terry Eliasen (@TerryWBZ) July 27, 2020
Jason Brewer, Boston 25: 'Warm start, hot afternoon'
Warm start, hot afternoon. *HEAT ADVISORY* in effect for Day 2 of this Boston heat wave. @boston25 pic.twitter.com/ItXMjKj6Ld

— Jason Brewer (@JBrewerBoston25) July 27, 2020
Trying to grab that top spot on this list today. #heatwave @boston25 pic.twitter.com/3ceu6NWwHb

— Jason Brewer (@JBrewerBoston25) July 27, 2020
Already exceeding our normal high temps for this date, and it's only 9am. #heatwave @boston25 pic.twitter.com/IJPVt35Ees

— Jason Brewer (@JBrewerBoston25) July 27, 2020
Zack Green, WBZ: 'Heat like this gives more meaning to "Netflix and chill"'
Heat like this gives more meaning to "Netflix and chill". pic.twitter.com/NjNhROpUup

— Zack Green (@zackgreenwx) July 27, 2020
Cold front pushing east on Tuesday will likely spark some showers and thunderstorms. Timing looks to be late afternoon to early evening. There is generally some relief after a front moves through…not the case this time. 90° still possible on Wednesday. pic.twitter.com/wQzxLDJngj

— Zack Green (@zackgreenwx) July 27, 2020
Get Boston.com's browser alerts:

Enable breaking news notifications straight to your internet browser.[/web-notifications-

opt-in]