Weather
Maps: How Tropical Storm Isaias will impact Massachusetts on Tuesday
"Isolated tornadoes will be possible, mainly this afternoon and evening."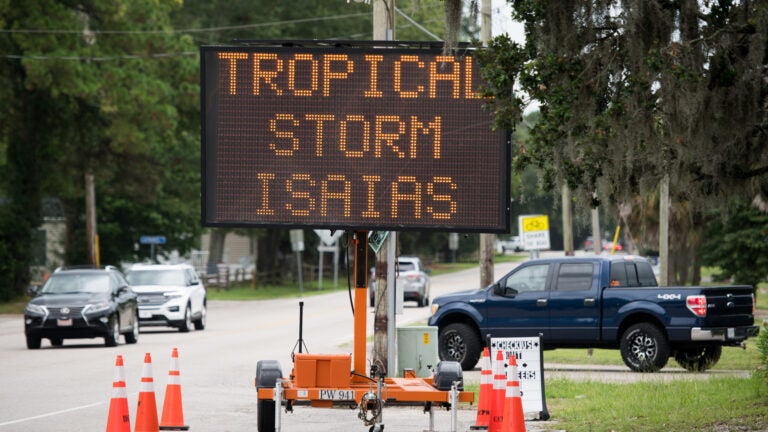 A tropical storm warning remains in place Tuesday for the entire state of Massachusetts as New England braces for the arrival of Tropical Storm Isaias.
Isaias made landfall in North Carolina on Monday night with hurricane strength, and forecasters are predicting it will bring heavy rainfall as it churns its way up the East Coast. 
Here are the 5 AM Tuesday, August 4 Key Messages for Tropical Storm #Isaias. For the full advisory, visit https://t.co/yrMJ9S4AT1, and go to https://t.co/URHWwowvzR for your local weather forecast. pic.twitter.com/4VU1Yp8LoK

— National Hurricane Center (@NHC_Atlantic) August 4, 2020
The National Weather Service is forecasting that rain and thunderstorms associated with Isaias will move into Connecticut and Western Massachusetts, potentially extending into Rhode Island and the eastern part of the Bay State, by later afternoon and evening.  
"The center of Isaias will move along the western MA border, then continue northeast into Canada," forecasters wrote. "Strong locally damaging winds and local downpours are expected during this passage. Minor coastal flooding along the south-facing coasts are also possible."
Since Monday, forecasters have reduced their predictions for rain totals from the storm, with heavy rain now forecast to fall largely over the Berkshires, where between 1 and 3 inches could fall. 
"Expect showers and a few thunderstorms during this time with local downpours," the service said of Tuesday afternoon and evening. "The best chance of downpours will be in the CT Valley and Berkshire East Slope regions, with diminishing rain amounts toward the east."
Forecasters are cautioning that high winds, with gusts between 40 and 50 mph, could cause downed trees and power outages, with the strongest impacts nearer to the storm center and diminishing farther east in the state. There is also a potential for "a few tornadoes," particularly in Western Massachusetts and in the area west of Worcester. 
"The system does have a history of generating tornadic circulations in storm rain bands as it moved into North Carolina." forecasters wrote. "Isolated tornadoes will be possible, mainly this afternoon and evening."
There will also be an increased risk of rip currents from the storm on Tuesday and Wednesday.
Lingering showers are possible after Isaias departs from the region Tuesday evening and into Wednesday, according to the service.