Weather
Will Sunday's storm bring much snow?
Here's David Epstein's forecast on the possibility of a Sunday night snowstorm.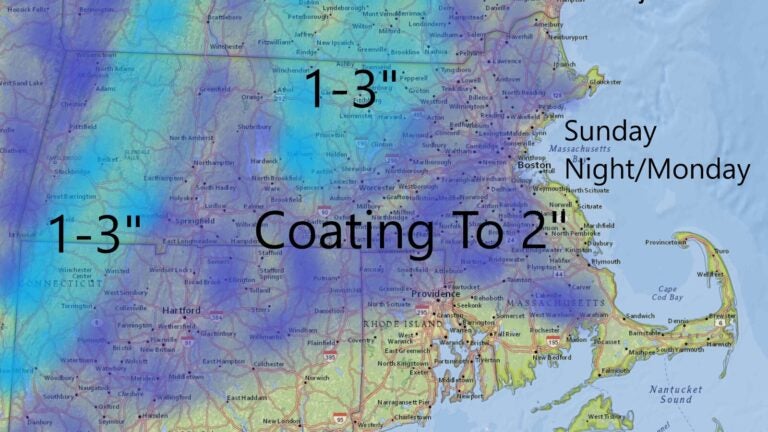 After a sloppy start to Saturday, things cleared out, and we had a beautiful conclusion with blue sky and seasonable temperatures.
Perhaps you've heard about the possibility of a snowstorm Sunday night into Monday. This possibility is based on the fact that a low-pressure area is going to be developing to our East and then heading up into the Gulf of Maine.
The exact track of the storm and how strong it intensifies will determine whether or not we see very little or enough snow to plow.
There are a few problems with this particular storm making it less likely this is going to be a major event. First, there isn't a lot of antecedent cold air around. This means that as the precipitation starts, temperatures are going to be marginal for snowfall in the first place.
As you get west of Route 495 and especially in the higher elevations, it's probably cold enough for some snow. However, even there, the snowfall will be wet.
At the coastline, I think the chances of accumulating snow are low, but not impossible. Since most of the precipitation is going to fall at night, that does increase the chances that whatever does fall in the form of snow will stick at least to the grassy surfaces.
The other issue with the upcoming storm is just how quickly it will intensify. Eventually, the storm is probably going to become quite formidable in the Atlantic. The later the storm grows stronger, the less opportunity there will be for significant snowfall.
As a matter of fact, if the storm doesn't get it's act going until it's east of Maine, we could just see a coating at best.
Nevertheless there is a winter weather advisory posted for interior areas Sunday night and Monday.
Presently, my snow map shows a coating to a couple of inches of snow near the coastline with perhaps a little more over the higher elevations of inland areas. It would not surprise me if these numbers need to be lowered if the current trend continues.  In other words, the forecast is still in flux, but a big storm doesn't seem probable.
There could be a few rain or snow showers Monday afternoon into Tuesday, along with seasonable temperatures.  I still don't see any big cold or have high confidence in a major snowstorm at least through mid-month as things stand right now.