Weather
Flash floods may be coming today. Here's how the NWS says you can avoid drowning in them.
"People underestimate the force and power of water."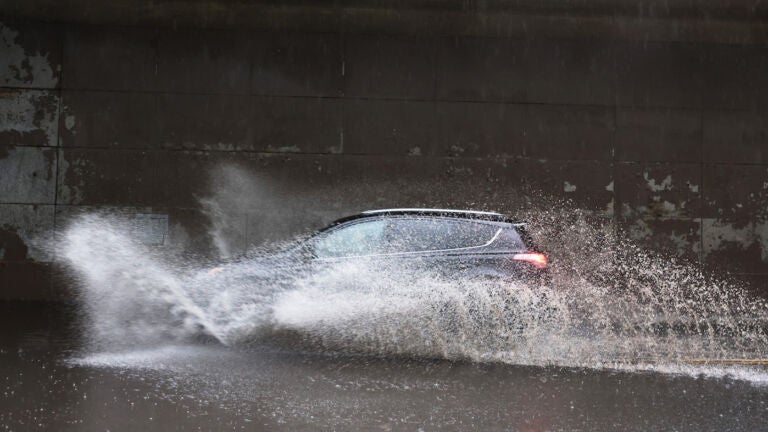 As Tropical Storm Elsa was on its way to New England Friday morning, the National Weather Service warned the storm could bring strong winds and flash floods.
The agency issued a flash flood warning for parts of Connecticut and Massachusetts, particularly in the Springfield area. The warning was in effect until 2:15 p.m. Friday.
So what does one do when encountering a flood like that?
According to the NWS, individuals should immediately move to higher ground and avoid walking or driving through flooded waters.
"Each year, more deaths occur due to flooding than from any other thunderstorm related hazard," the NWS says on its website. "The Centers for Disease Control and Prevention report that over half of all flood-related drownings occur when a vehicle is driven into hazardous flood water. The next highest percentage of flood-related deaths is due to walking into or near flood waters. People underestimate the force and power of water."
Many of those deaths, however, are preventable, the agency says. Drivers should never travel past barriers blocking a flooded road — it's possible the road has collapsed under the water.
"A mere 6 inches of fast-moving flood water can knock over an adult," the NWS says. "It takes just 12 inches of rushing water to carry away most cars and just 2 feet of rushing water can carry away SUVs and trucks. It is NEVER safe to drive or walk into flood waters."
To remind pedestrians and drivers, the NWS coined the phrase, "Turn Around Don't Drown" — likely sage advice for handling other unsafe scenarios resulting from this storm as well.
Newsletter Signup
Stay up to date on all the latest news from Boston.com