Weather
Nor'easter brings hurricane-force winds to Massachusetts
Overnight winds surpassed any recorded this year, said M.L. Baron, who operates a weather station in Fairhaven.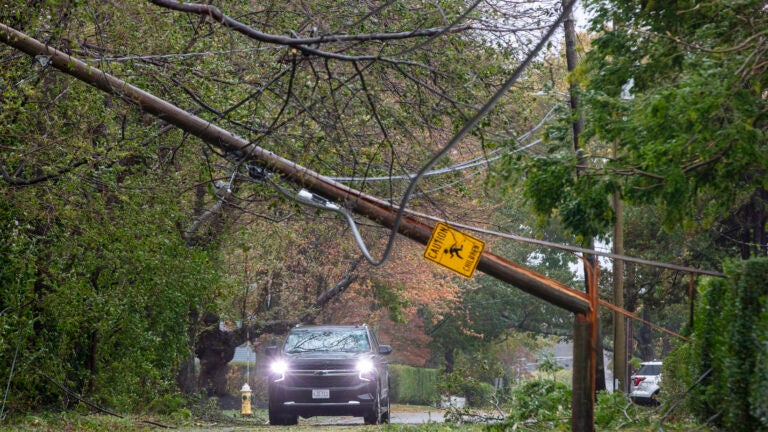 BOSTON — Hurricane-force winds from an early-season nor'easter swept through coastal New England on Wednesday, a day after battering the New York City area, sending trees crashing onto power lines and cutting electricity to hundreds of thousands of households.
The winds, which gusted to 94 mph on Martha's Vineyard in the predawn hours, picked up a small aircraft at the New Bedford Regional Airport, lifting it over a fence and onto a roadway, and peeled the roof off an apartment building in Quincy, Massachusetts, snapping the 8-inch bolts that held it down.
"Something extreme happened in order to cause this much damage," James Marathas, executive director of the Quincy Housing Authority, told Boston's Channel 7 News.
Scores of Massachusetts communities canceled school for the day, and subway and commuter rail service was delayed while employees removed debris and fallen trees from the tracks. At 1:30 p.m., more than 400,000 customers in Massachusetts, nearly 80,000 in Rhode Island and about 10,000 in Connecticut were without power, according to PowerOutage.us, which aggregates data from utilities across the country.
The Weather Service in Boston warned coastal residents, "For your safety indoors, stay away from windows!" It said the Nantucket area had experienced a bomb cyclone, an explosive deepening of pressure that can lead to powerful wind gusts.
Overnight winds surpassed any recorded this year, said M.L. Baron, who operates a weather station in Fairhaven, Massachusetts. Had it occurred during the winter, the storm would have been a "catastrophic blizzard," he said, setting back the region for weeks. Still, he said, coastal areas saw "the damage and destruction hurricane-force winds can deliver."
Shortly before 5 a.m., Baron listened as two men on a boat docked near New Bedford, Massachusetts, called the Coast Guard for a rescue, because the dock had disintegrated, and live power lines were in the water around them. "They were trapped; they couldn't get off the boat," he said, until rescuers carried them safely to land.
Coastal communities were buffeted by winds overnight, and residents awoke to widespread power outages and downed trees. The fire department in Duxbury, Massachusetts, reported receiving 90 distress calls overnight and warned residents against trying to navigate the roads.
In Cohasset, Massachusetts, winds smashed the press box at a high school football stadium to splinters. A tree was uprooted on Boston's historic Beacon Hill, peeling the brick-paved sidewalk like a ribbon. Timothy Cox, the Fair Haven harbormaster, spent Wednesday afternoon retrieving boats that had broken from their moorings and come to rest on land.
"This morning it was pretty crazy," he said.
National Grid, an energy provider for New York, Rhode Island and Massachusetts, dispatched 2,400 field personnel to repair damaged wires, poles and transmission lines, the company said in a statement, describing "significant impact to our system" that could last days in some places.
The same storm struck the New York City area Tuesday with heavy rain, strong winds and the threat of flash floods, although the region was largely spared the type of deadly extreme weather brought by the remnants of Hurricane Ida last month.
Roads flooded across the region, with flood warnings in effect through Wednesday for the Saddle River in Lodi, New Jersey, and for the Ramapo River in northern New Jersey and Orange and Rockland Counties in New York.
New Yorkers woke up Wednesday to dry skies, but gusty winds. As of Wednesday morning, only about 14,590 New York homes were without power, according to PowerOutage.us. And public transit was running smoothly, with few unplanned delays.
Officials in the area had moved quickly to prepare for the nor'easter, in part scarred by the intensity of several storms this summer that exposed the region's vulnerability to extreme weather events made more frequent and intense by climate change.
The threats were brought into stark relief last month, when torrential rain brought by Ida unleashed rushing waters that killed 11 people, including a toddler and his parents, in basement apartments in New York City. At least 43 people died across New York, New Jersey, Pennsylvania and Connecticut amid the hurricane's watery remnants.
"Someday maybe we'll just have a regular rainstorm. We don't seem to get those much anymore," Joseph Fiordaliso, who leads New Jersey's utility board, said at a news conference Tuesday, adding, "Climate change is real, and we have to work to mitigate as much of it as we possibly can."
Another storm was set to bring heavy rain to the Northeast early in the weekend, after sweeping across the country's midsection with gusty wind and thunderstorms Thursday and Friday. In eastern Texas and Louisiana on Wednesday, a strong storm led to a series of tornado warnings and sightings, but no reports of widespread damage.
Daily Local Weather Forecast