Weather
What local meteorologists are saying about Saturday's 'powerful' winter storm
"Hunker down. It's an all day event."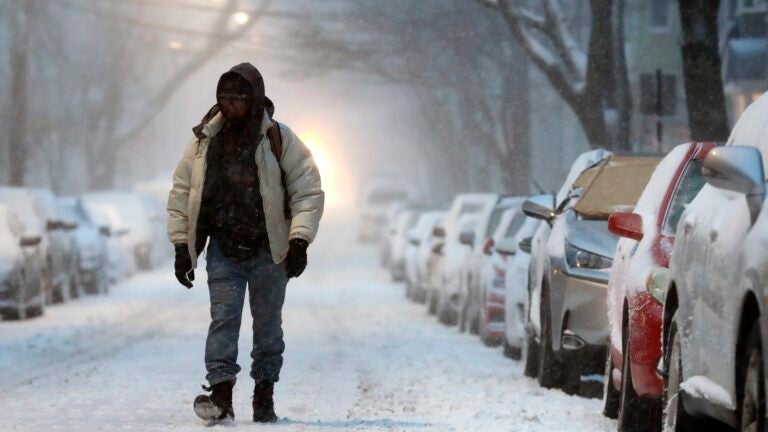 Get your shovels ready, Massachusetts. The snow is already starting to pile up.
A powerful winter storm is battering the region, and the National Weather Service is warning the system is expected to bring "near record snowfall, blizzard conditions, near hurricane force wind gusts, and coastal flooding" through Saturday evening.
A Winter Storm Warning is in effect for much of Massachusetts through early Sunday, and the service has issued a Blizzard Warning for the eastern part of the state, which is also in place through early Sunday morning.
"Road conditions will make for near impossible travel!" service forecasters said Saturday. "It is strongly urged to not travel."
Near hurricane force gusts are forecast across Cape Cod, and winds between 50 and 60 mph are also expected for eastern Massachusetts.
Boston could see between 24 and 30 inches of snowfall from the storm, according to the service.
Service forecasters said the expected snow totals will be record, or near record, in many locations for the state.
"Snowfall rates could reach 2 to 4 inches per hour at times with possibility of thundersnow across eastern MA and RI," the service said. "This will make travel very dangerous to nearly impossible."
Below, see what local forecasters are saying about the winter storm and how it is expected to impact Massachusetts through the day.
National Weather Service: 'Radar estimates beginning to show some isolated areas of 3-4 inch per hour snowfall rates.'
David Epstein: 'Intense #Blizzard in this band and just outside of it.'
Kelly Ann Cicalese, WCVB: 'Snowfall reports will need to be updated frequently with the heavy bands of snow we are dealing with.'
Zack Green, WBZ: 'Hunker down. It's an all day event.'
Matt Noyes, NECN & NBC10: 'The eye-like feature developing in today's storm contained thunderstorms as the storm underwent its rapid strengthening and our most focused wind core developed north of the circulation, thus far bumping (instantaneous) wind gusts to 99 mph at Truro.'
Jason Brewer, Boston 25 News: 'Latest snow'
Chris Lamberton, WHDH: 'Temps drop from northwest to southeast this morning. Still a wet snow in Southeast Mass… for now. That'll change across Bristol and Plymouth County by late morning.'
Daily Local Weather Forecast
Mostly cloudy with thunderstorms
Newsletter Signup
Stay up to date on all the latest news from Boston.com