Weather
AccuWeather said Boston could expect over 40 inches of snow this winter. What happened?
So far, Boston has seen just 7.9 inches of snow since Dec 1.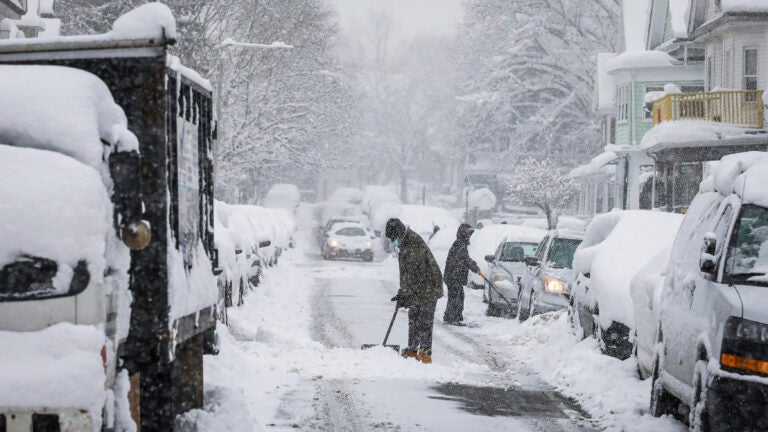 Consider winter 2023 "the year of the dusting."
Or at least that's how WBZ Chief Meteorologist Eric Fisher described the rather snow-less winter Boston has had this season in a tweet on Tuesday morning, as the region got a few flakes but not much more once again.
Yes, amid Massachusetts's rather atypical mild winter, there's been a steady rotation of spring-like days with highs in the upper 50s and low 60s.
Yet in October, this sort of pattern was anything but anticipated, at least for AccuWeather.
When the weather forecasting company released its long-range, seasonal forecast for this winter last fall, it predicted Boston would see relatively the same amount of snowfall as the city received last winter, or between 40 and 50 inches.
Yet as of Tuesday morning, a total of 7.9 inches of snow had landed at Logan Airport since Dec. 1, according to Joe Lundberg, senior meteorologist at AccuWeather. In a typical winter, the city has usually already seen 34.8 total inches of snow by this time of year.
With another system arriving Wednesday night, Boston may have a chance for another inch or two of snow, though even then, there still remains quite a gap from up to 40 inches.
"We'll nickel and dime our way to maybe 10 inches by the end of that storm system," Lundberg told Boston.com. "There may be another little piddly system sometime later this weekend. We can get another — maybe an inch or two out of that, but that's a far cry from getting some of those higher end totals that we were expecting earlier this year."
So what happened?
Lundberg believes there are several factors contributing to the rather dry winter so far.
One is the polar vortex, which has remained centered near the North Pole, he said.
"Most of the cold air was locked up in the very high latitudes," Lundberg said. "So only on a couple of occasions have some pieces of arctic air come breaking loose."
There have been two notably frigid periods in recent months: just before Christmas Eve and then again in early February, which made for some historic lows.
"The arctic air has been in short supply," he said. "We've had it. We've never been able to keep it."
Another factor is a lack of atmospheric blocking.
"Sometimes we get these anomalous areas of high pressure that are centered somewhere in the vicinity of Greenland," Lundberg said. "When they show up, it usually forces cold air southward, and that's when we can get our longer stretches of cold weather. We just haven't had any of that this winter. There's just been none. So any cold air has come and it's just disappeared in a day or two, just like that. If you don't have the cold air, it's hard to get snow."
Notably, long-range forecasting is, of course, always prone to failing to completely meet predictions, even as technology has improved.
This winter is also the third in a row with patterns driven largely by a La Niña phenomenon, or when cooler than average water near the equator in the eastern Pacific Ocean influences the jet stream.
In October, AccuWeather senior meteorologist Paul Pastelok said no two La Niña winters are exactly the same.
"These third-year La Niñas are very tricky," he said.
Lundberg confirmed Tuesday that when crafting these long-range forecasts, AccuWeather meteorologists take into consideration water temperature profiles, along with sunspot activity and other factors.
"Then we'll start coming up with charts of what those factors look like, and where there may have been winter seasons in the past that look kind of similar that have similar numbers, if you will, for those indexes that we're looking at," he said.
"There's never going to be an exact match. I mean, we don't have enough data."
According to Lundberg, AccuWeather recently lowered its predicted total snow accumulation range for Boston for the season from the 40 to 50 inches expected last fall down to 25 to 35 inches.
"We just felt that obviously it's been underperforming at this point in time, and as the season is drawing to a close, we do think going forward that there will be some semblance of blocking and that's going to force the jet stream farther south, which gives us more access to cold air," he said. "Now, you got to get the storms to come along at the right time and, you know, maybe we'll get one good storm to get us toward the bottom end of that range."
Just don't expect snow anytime soon, though.
"In the short term, [a large storm] doesn't look very likely for the next couple of weeks," Lundberg said.
Newsletter Signup
Stay up to date on all the latest news from Boston.com