Weather
What forecasters are saying about the nor'easter
"Conditions will get worse through the day."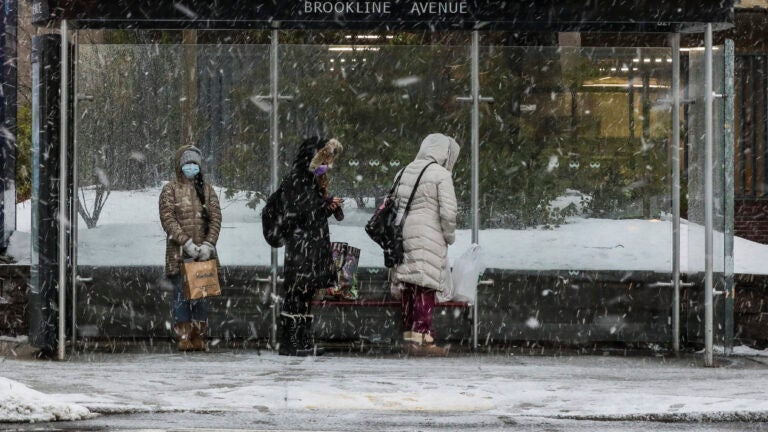 Heavy, wet snow, rain, and high winds from a powerful late-season winter storm will impact Massachusetts through Wednesday, prompting forecasters to warn about potential power outages and difficult travel conditions.
The National Weather Service has issued a Winter Storm Advisory for most of Massachusetts and a High Wind Warning for coastal areas of the state for 24 hours beginning at 8 a.m. Tuesday. It also issued a Coastal Flooding Advisory from 3 to 8 a.m. Wednesday.
"A rapidly intensifying coastal storm will bring a very serious/major winter storm with power outages to the high terrain…while rain changes to wet snow in the lower elevations," service forecasters said Tuesday. "While amounts are much more uncertain in the lower elevations…downed tree limbs and power outages are also possible."
Storm timeline
The Worcester Hills and Berkshires saw rain change to heavy, wet snow overnight, with some locations already reporting more than a foot of accumulation. The changeover from rain to snow will happen Tuesday across the rest of the state.
"The rain snow line will collapse south and east over the course of the day, with most locations away from far southeast MA experiencing snow around the lunch hour," the service said.
The snow is expected to continue through Tuesday evening before winding down overnight.
"Things may get quite messy across this region during the afternoon given the wind and wet snow and travel may become quite difficult with power outages," the service said.
Snow totals
The service said that for the northern Worcester Hills, the Berkshires, and other areas above 1,000 feet in elevation the storm is going to be particularly high impact.
"This will be a very serious storm for this region with 1 to 2+ feet of heavy wet snow resulting in downed tree limbs and power outages," forecasters said. "In fact…a few spots in the highest terrain may see total snow amounts approach 30 inches! The snow may become a bit drier by late afternoon and into the evening before finally winding down overnight. But a very serious storm is in progress for this region and will continue into the evening."
Meanwhile, exactly how much snow will be seen for lower elevations remains uncertain. Temperatures, according to the service, are expected to remain above freezing "outside the most intense snowfall."
Below, see what local forecasters are saying about the nor'easter.
National Weather Service: 'As rain transitions to snow across more of southern New England, outages are will become increasingly common.'
Dave Epstein: 'Still a very tough forecast for total snow.'
Shiri Spear, Boston 25 News: 'If you don't see snow now, it's coming this afternoon/tonight in your town. Conditions will get worse through the day.'
Kelly Ann Cicalese, WCVB: 'Snow is already sticking & slowing down travel through much of Worcester County.'
Chris Lambert, 7News: 'Scattered power outages near the coast with strong winds later today. Heavy wet snow across the interior the concern, especially once breeze picks up.'
Terry Eliasen, WBZ: 'Bands of very heavy snow through this evening.'
Newsletter Signup
Stay up to date on all the latest news from Boston.com