Weather
Hurricane Lee updates: The latest on impacts to Massachusetts and New England
Hurricane Lee was nearing Nova Scotia on Saturday morning as a post-tropical cyclone, but it was still producing hurricane-force winds that extended more than 100 miles away from its center.
State of emergency lifted for Mass. (1:18 p.m.)
Gov. Maura Healey lifted the state of emergency just before 1 p.m., adding that she was "relieved that the impacts of Hurricane Lee have been minimal across Massachusetts."
NWS also said in their latest forecast message that the only weather condition that will persist into the afternoon for most of eastern Massachusetts are wind gusts of 30 to 40 mph.
Cape Cod and Nantucket still have a coastal flood advisory in place, but after the high tide is over in the afternoon, NWS said that threat will likely be over.
Some more good news: forecasters said Sunday is likely to be a "pleasant fall day."
The Biden administration also approved a federal emergency declaration for Massachusetts, which opens up federal assistance for Lee response efforts to the following counties: Barnstable, Berkshire, Bristol, Dukes, Essex, Franklin, Hampden, Hampshire, Middlesex, Nantucket, Norfolk, Plymouth, Suffolk, and Worcester.
Mass. out of tropical storm warning, but more lose power (11:28 a.m.)
Massachusetts' coast was no longer under a tropical storm warning as Hurricane Lee moved past Maine and toward Nova Scotia, according to the National Hurricane Center's 11 a.m. Saturday advisory. Lee is expected to make landfall likely just east of the U.S./Canada border Saturday afternoon.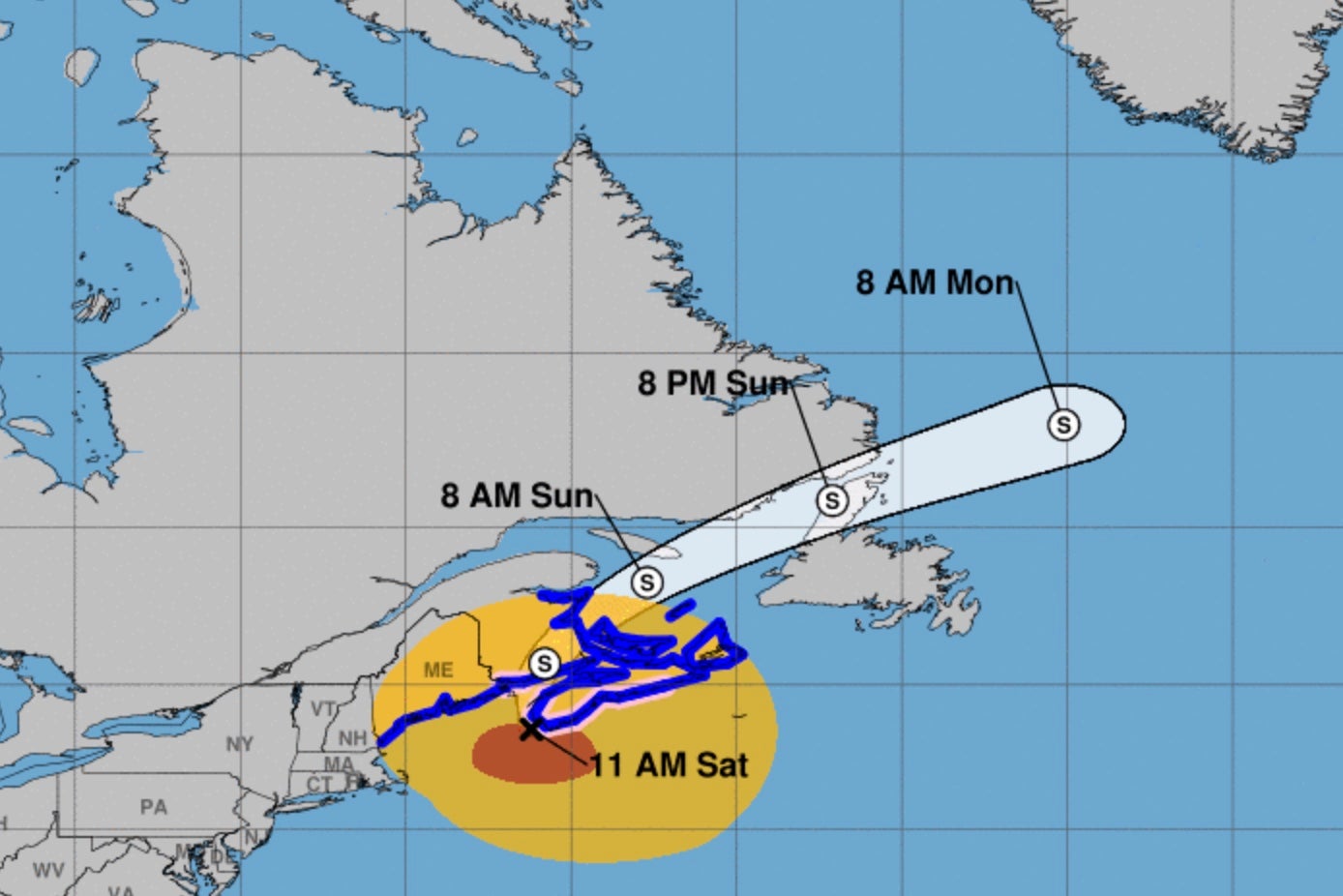 But parts of the commonwealth were still within the system's large wind field, with tropical storm-force winds reaching Cape Cod and the northern tip of Massachusetts' coast.
Meteorologists with NWS and on X said that peak conditions may be behind Massachusetts, though gusty winds will remain through the afternoon. Forecasters will also keep an eye on what happens during the midday high tide.
More power outages were reported around 11 a.m. — with 762 Eversource customers affected in eastern Massachusetts and around 60 commonwealth customers with National Grid.
Reports of some downed trees across Mass. (10:03 a.m.)
There have been reports from outlets and social media of downed trees in New England from Hurricane Lee.
The Boston Globe reported a downed tree in Dorchester on Friday as winds picked up ahead of Lee's arrival.
WMTW, the ABC affiliate for Portland, Maine, shared images of a few trees down in other towns in Maine and one in Rockport, Massachusetts.
An X user shared pictures of tree damage in Orleans and Brewster.
Lee brought with it strong winds and gusts to New England, and officials warned residents leading up to the system's arrival that the winds could down trees and lead to power outages. Wind gusts over 60 mph have been reported out of Cape Cod and the Islands, but those amounts drop to around 30 mph inland and around Boston.
Meteorologists say strong winds will continue into Saturday afternoon.
There are around 400 customers without power in Eastern Massachusetts. You can track power outages on your utility's website.
Flood warning dropped for Cape Cod, Nantucket (9:28 a.m.)
A flood warning was dropped for Cape Cod and the Islands, and a coastal flood advisory was dropped for most of Massachusetts' coastline except for the Cape and Nantucket Saturday morning.
Though a couple of images shared showed minor flooding, large rain amounts staying offshore helped keep flooding issues to a minimum.
The local National Weather Service said they received only one report of coastal flooding overnight on Easy Street in Nantucket. Luz Arregoces, the director of community engagement at the New England Aquarium, said both the Central Wharf site and their Animal Care Center in Quincy saw no flooding — just winds and some rain.
Meteorologists are keeping an eye on the midday high tide, but NWS said coastal concerns peaked during the overnight high tide.
A tropical storm warning and high rip current threat remain in place.
Hurricane Lee produces 'amazing sunset' (8:22 a.m.)
Around 8 p.m. Friday, residents around the commonwealth shared photos online of a strikingly red and purple sunset a few hours before Lee's arrival.
When asked why such impressive sunsets happen before hurricanes, WBZ chief meteorologist Eric Fisher provided one X user with an answer.
"Because you're usually in a situation where there's a nice textured high/mid-level cloud deck, where sunlight hits them before going through any pollution/bigger particles closer to the surface," Fisher tweeted. "(That) helps add shorter-wavelength light like purple. Also helping in this case, a storm to the east with unobstructed daylight coming from the west to light it up."
Hurricane Lee is a post-tropical cyclone (7:47 a.m.)
As of 5 a.m. Saturday, the National Hurricane Center said Lee was now a post-tropical cyclone that was still producing hurricane-force winds — 80 mph sustained winds reaching out as far as 140 miles away from the center.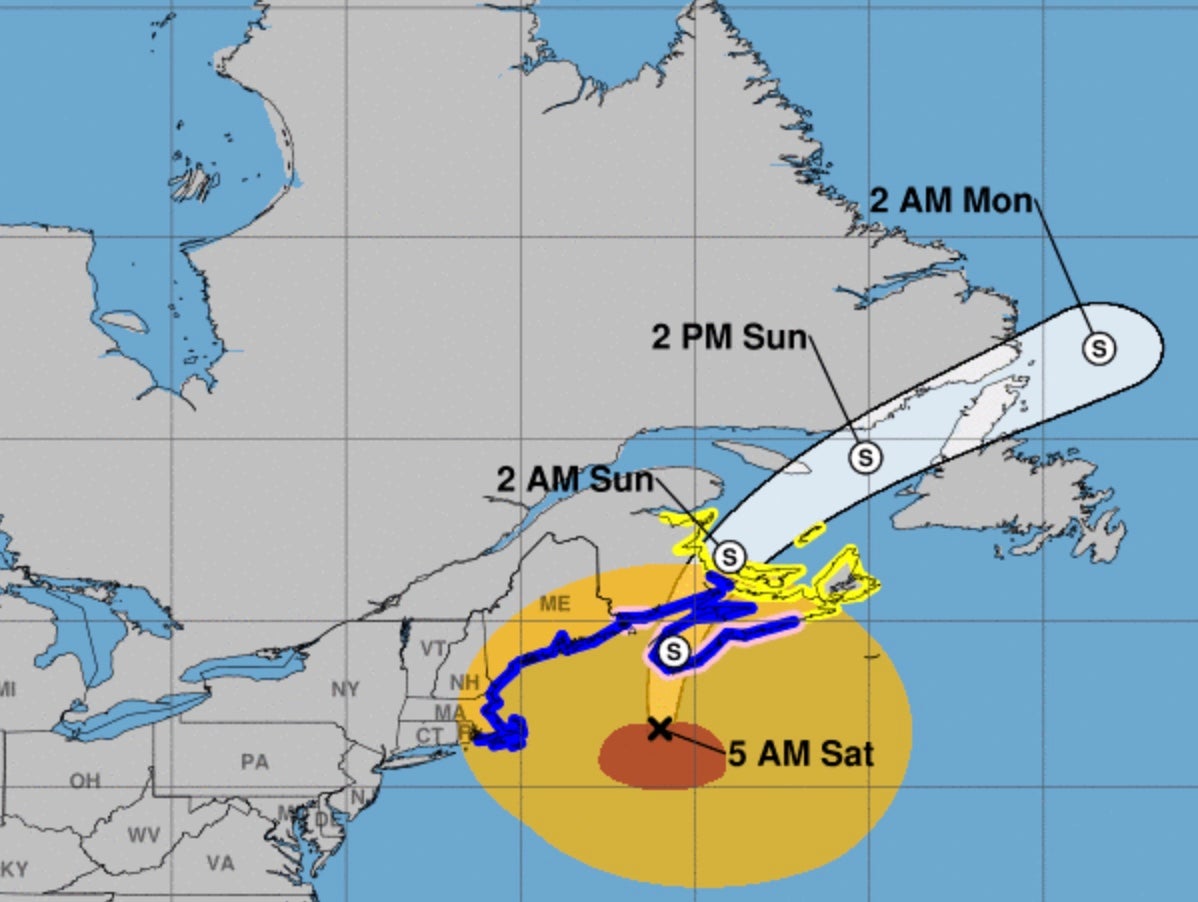 It was located 230 miles south-southwest of Halifax, Nova Scotia, and is forecast to make landfall on western Nova Scotia around midday.
Weakening is in the forecast for late Saturday and continuing into Sunday, according to NHC's latest update. But according to meteorologists and the Weather Channel, New England isn't done seeing Lee's impact quite yet.
The back end of the storm is expected to produce more winds and high surf — especially around high tide — until at least mid-afternoon Saturday. Lee is also expected to bring one to four inches of rain through tonight, though meteorologists have said rain likely won't impact most of the commonwealth except for the Cape and Islands.
That's in addition to the high surf and winds New England and Massachusetts have already seen. NHC's report said they measured wind speeds out of Dennis that were 43 mph. Gusts were 59 mph.
Newsletter Signup
Stay up to date on all the latest news from Boston.com