Weather
Wet, windy weather could mar holiday travel until a sunny Thanksgiving day
A New England storm will affect Tuesday night driving in the region, while air travel at Boston Logan could go smoothly.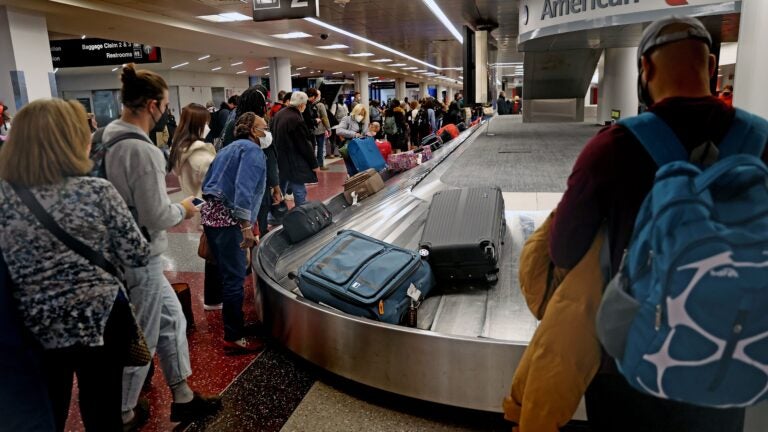 The biggest days for Thanksgiving travel may be disrupted by some wind and rain before the clouds part for a sunny holiday on Thursday. A New England storm will affect Tuesday night driving in the region, while air travel could go smoothly.
Boston and air travel
Late Tuesday night will be rainy, with up to half an inch of precipitation possible in Boston. While snow won't fall in the city, rain should continue through Wednesday afternoon, the National Weather Service forecasted.
A wind advisory on the Cape and Islands on Wednesday warns of 50 mph winds that could down trees and power lines. Wind will also blow up and down the Massachusetts coast at 30 mph.
By Thursday, the winds calm and the clouds part for a sunny holiday with a high near 52 degrees, according to the National Weather Service.
The windy weather could force delays and cancellations at Boston Logan, but meteorologists in the region are predicting limited air delays. Most of the rain and snow is concentrated north of Boston.
Weather delays or not, Logan will be bustling both Tuesday and Wednesday for air travel. TSA announced on Monday that they are expecting more than 70,000 travelers both days and on the Sunday after Thanksgiving.
WCVB reporter Brianna Borghi shared on social media an airport security line extending through Terminal A Tuesday morning.
"And it's supposed to be even worse tomorrow!" she wrote.
There will be the highest number of air travelers this year since 2005, AAA announced in its yearly Thanksgiving Travel Forecast, and TSA is asking travelers to arrive at least two hours before their flight and to be prepared for TSA screening.
New England driving travel
More than 55 million will travel more than 50 miles for their holiday feast this year, and more than 88 percent of all travelers will drive, AAA reported.
The National Weather Service said areas northwest of Worcester should expect some snow starting Tuesday night, around one to four inches.
The snow will turn to rain by Wednesday, which will be a windy day across the state.
A winter weather advisory overnight on Tuesday in Western Massachusetts could yield anywhere from one to four inches of snow in Pittsfield and North Adams, but the snow will mostly affect Thanksgiving in Northern New England.
Boston 25 meteorologist Shiri Spear shared on social media that the worst of the traffic delays will be from late Tuesday into Wednesday morning.
Most of the storm going through Massachusetts will dump snow in New Hampshire, Vermont, and Maine from 7 p.m. Tuesday through 1 p.m. Wednesday.
The National Weather Service forecasted more than four inches in Chelsea, Vermont, and three-and-a-half inches near the White Mountains. The wintery mix will affect roads and travel throughout the region.
Newsletter Signup
Stay up to date on all the latest news from Boston.com